View Point Health serves communities online thanks to new website from Third Wave Digital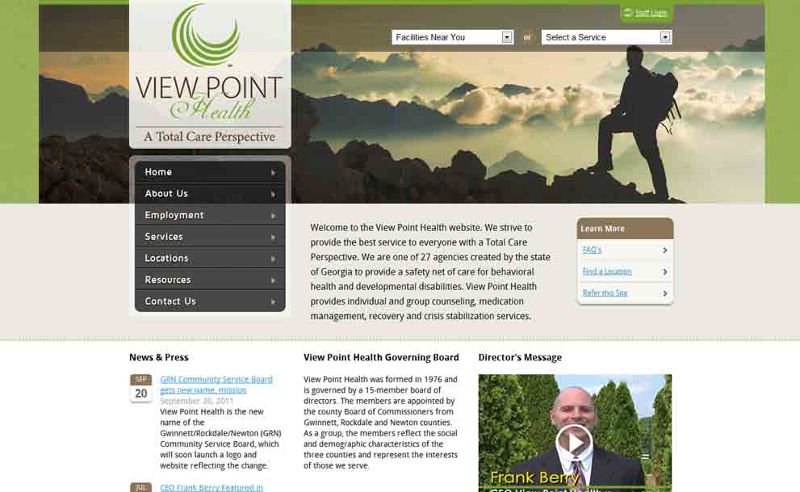 In late 2011 the Gwinnett, Newton, Rockdale County Community Service Board (GRNCSB) announced its decision to re-launch under the new name View Point Health in an effort to be more inclusive of the growing number of counties served by the behavioral health and developmental disabilities agency. Like any re-branding effort, the team at View Point Health sought to create a unified presence for both the community and its employees and knew that going online was a must. To do this, View Point Health contracted Macon, Georgia-based web design and development company Third Wave Digital.
The finished web site https://www.myviewpointhealth.org/ is a testament to View Point Health's expanded vision and incorporates new, customized tools to allow the growing agency to stay current with its often varying audiences.
"View Point Health was in a unique position to create a very inclusive online presence. We knew that the website would be used by any number of different visitors and that each would have unique reasons for going there," said Third Wave Digital President Bart Campione. "In the end, we decided to make it an all-in- one deal where the same site houses information for the public and for employees via a secure Intranet."
To position itself as a community resource, the new https://www.myviewpointhealth.org/ focuses first on the main issues a potential client would look for. Along with a clean and intuitive graphic user interface, https://www.myviewpointhealth.org/ houses multiple graphic links, a 30 second overview video – scripted and produced by Third Wave – and an overview of the latest View Point news – right on the site's home page.
Site visitors can then navigate deeper into the site using the interactive navigation which features expanding and collapsing menu items. Additionally, a custom search feature allows visitors or employees to find facilities near them using either a service or county search. This feature is present on each page of the site so the right resources are never more than a click away. Online communication forms also give site users another avenue to get the information that they need.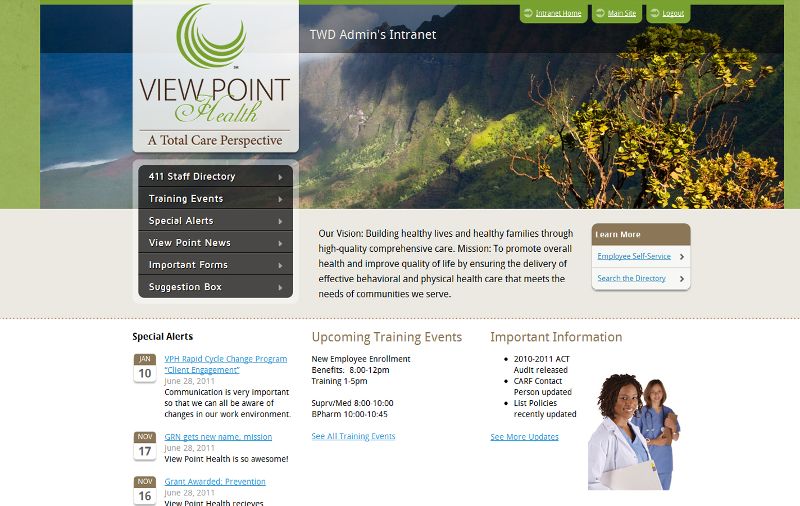 "This site helps make us a competitive provider in the communities we serve. It gives us a fresh look and design. Our team thoroughly enjoyed working with TWD in making our vision a reality. We've received great feedback from staff and gladly promote our site to our partners," said View Point Health C&A Director Chad Jones
To serve the needs of the View Point Health staff, Third Wave Digital developed a completely custom Intranet site that is available via a secure login on the main website. Once logged in, employees can search a staff directory using multiple search criteria, find out about – and register for - upcoming training events and submit both news and alerts to be featured on the Intranet site. Additionally, the View Point Health Intranet also houses important forms and information relevant to the staff.
"The View Point Health website is the perfect blend of technology and functionality," Campione said. "We set out to create a place for the public to explore, get information and communicate while still giving the staff a portal that focuses on their unique needs. The new site does all of this and gives View Point Health a simple way to manage it all – a crucial element for today's websites."
The beauty of both the main https://www.myviewpointhealth.org/ and the secure Intranet are not limited to the site's front facing display. Both the public and staff sides of https://www.myviewpointhealth.org/ are powered by a dynamic content management system that allows the site's administrators to have complete control. In addition to updating the site's content and images, Third Wave Digital's enhanced CMS also allows View Point Health administrators to create new pages, add new communication forms and manage all of the custom Intranet functions.
From adding new employee records that automatically sync to the Intranet's employee search to managing the agency's special alerts feed, the CMS and custom tools from Third Wave make https://www.myviewpointhealth.org/ a technologically complex, yet user friendly online experience. Third Wave Digital has also provided complete hosting and support since https://www.myviewpointhealth.org/ launched in December 2011.
About Third Wave Digital
Third Wave Digital is a comprehensive web design, development and support company specializing in complex web presence creation for small to mid-sized businesses and higher education institutions. Third Wave Digital is a division of Colbarton Corporation which offers full service advertising agency services though Third Wave Advertising and complete Web hosting solutions through Third Wave Host. Third Wave Digital is headquartered in Macon, Georgia with satellite offices in Atlanta, Georgia and Orlando, Florida. For more information about Third Wave, call 888-578-7865, click http://www.twd3.com or e-mail info@thirdwavedigital.com.
---
---