Troy Jones Celebrates his 10 Year Anniversary with Third Wave Digital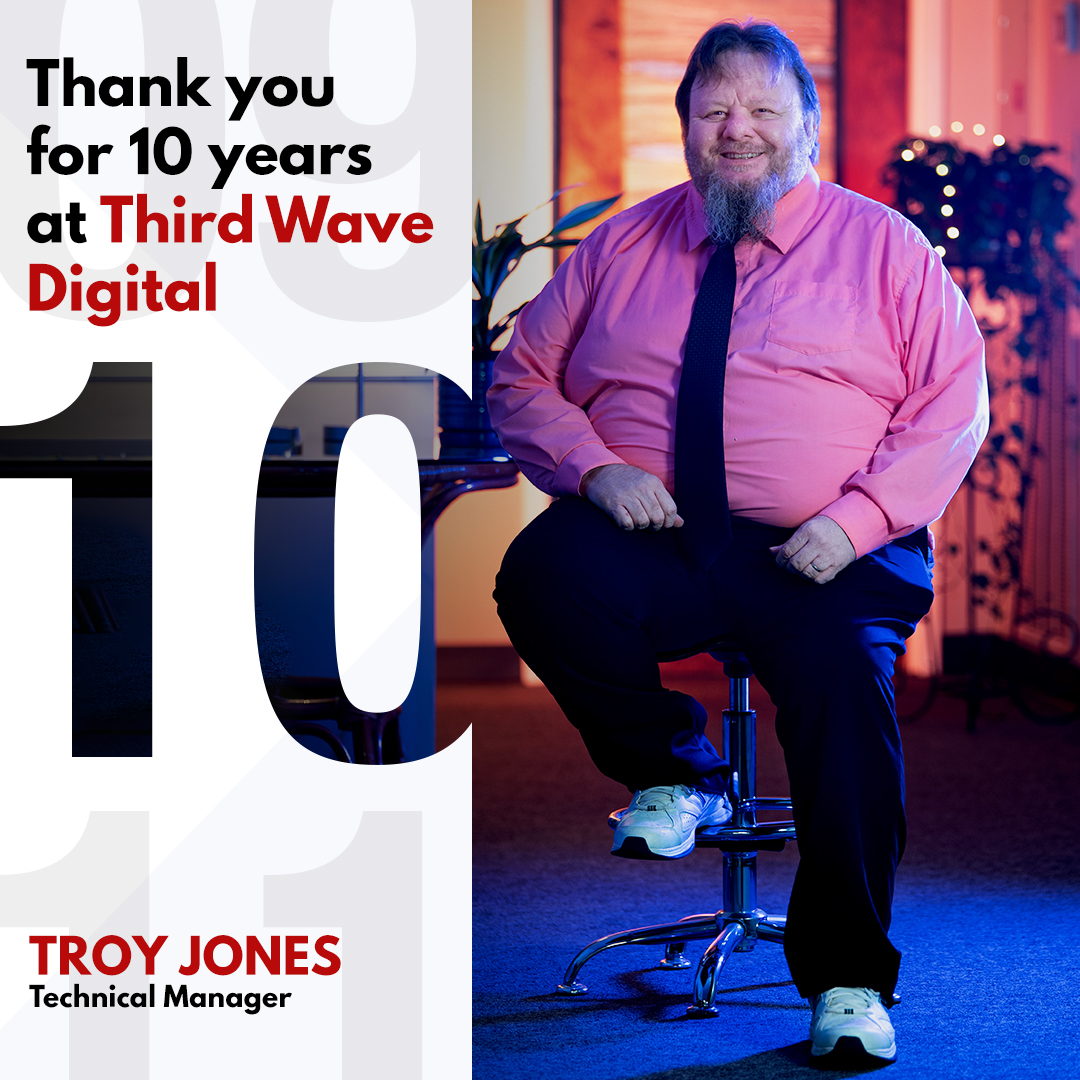 MACON, GA, March 20, 2023 – Third Wave Digital, Central Georgia's foremost comprehensive creative agency, is pleased to have celebrated the 10-year work anniversary of our Technical Manager, Troy Jones.
Troy began his journey with TWD in 2012. At the time, TWD employed 7-8 people and only had a couple of dozen websites. Since then, TWD has more than tripled our hosting presence, web projects, and our technical department. Troy plays a very prominent role in all of TWD's web projects, whether it is administering hosting, coding, or backend management Troy is involved. He also oversees managing the network of contractors and our technical assistants.
Troy transitioned from a 20-year career in the food industry to the tech industry. He began his journey in the tech industry under the guidance of a family member who mentored him and taught him programming languages. With 17 years of experience in the tech industry now, Troy has come a long way since his humble beginnings.
When asked about this milestone, Troy said "I've never worked anywhere else where I've felt more a part of what's going on. I feel very much integrated in this company."
Reflecting on his time working with Troy, Myron Bennett, Creative Director and Partner at Third Wave Digital had this to say, "I've known and worked with Troy for over 15 years. Since joining Third Wave Digital, he has become one of our true 'indispensables.' In every technical aspect that our business touches, his contribution strengthens both our team and our product. Thank you, Troy for all that you do!"
Third Wave Digital is thankful for 10 years of Troy's service and dedication. We look forward to his continued success for many years to come.
About Third Wave Digital 
For over 25 years Third Wave Digital has been in the business of providing communication excellence to our clients through digital and traditional marketing & advertising services. Third Wave Digital is headquartered in Macon, Georgia and serves clients across the United States. Third Wave Digital offers a comprehensive array of services from website development, hosting and technical support to digital marketing and traditional advertising agency services. Specialty services include complete video production and post-production editing facilities, licensed drone operators and 2D-3D animation capabilities. For more information, contact Third Wave Digital at 1-888-578-7865 or at www.thirdwavedigital.com. 
---
Tags:
Third Wave Digital Technical Manager
Troy Jones Anniversary
Troy Jones
Third Wave Digital web design
Third Wave Digital
---