Third Wave Digital works with Ladder Safety Rest
Custom Website
When Ladder Safety Rest Owners first contacted Third Wave Digital in July of 2020, they have a need to grow awareness for their innovative and one-of-a-kind product. Third Wave Digital was able to provide Ladder Safety Rest with the necessary services to meet their expectations.
The first thing TWD did was launch a custom website. Third Wave Digital delivered a responsive website with a custom design that is powered by TWD's content management system; making it easy to create updates. One of the CMS plug in features is a Photo Gallery manager. The photo gallery allows administrators to update and change out photos to display the Ladder Safety Rest. Another CMS plug in is the Testimonials tools. This allows positive reviews of the Ladder Safety Rest to be showcased on the website. Third Wave Digital will continue to provide services for the new site with on-going support and monthly website hosting.
Check out Ladder Safety Rest's new website
Video Production
Third Wave Digital also worked with Ladder Safety Rest to create 3 professional broadcast videos to highlight their product. TWD did 2 half day shoots to accomplish the goal of creating these unique videos. Our production team had to get creative to best showcase this unique product. Our team used truck, ladders, and our drone on filming day. These videos can be found here on the Ladder Safety Rest website.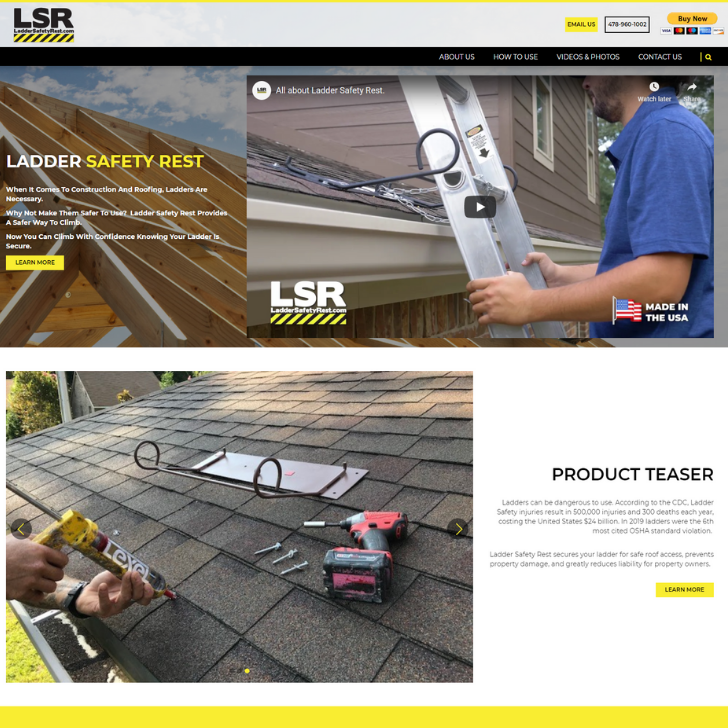 About Third Wave Digital
For over 20 years Third Wave Digital has been in the business of providing communication excellence to our clients through digital and traditional marketing & advertising services. Third Wave Digital is headquartered in Macon, Georgia and serves clients across the United States. Third Wave Digital offers a comprehensive array of services from website development, hosting and technical support to digital marketing and traditional advertising agency services. Specialty services include interactive exhibit design, print design and complete video production services. For more information contact Third Wave Digital at 1-888-578-7865 or at www.thirdwavedigital.com.
---
Tags:
website design
ladder safety rest
video production
Macon
Georgia
Third Wave Digital
---