Third Wave Digital gets a Facelift for 20th Anniversary!
New look, Same promise to excellence!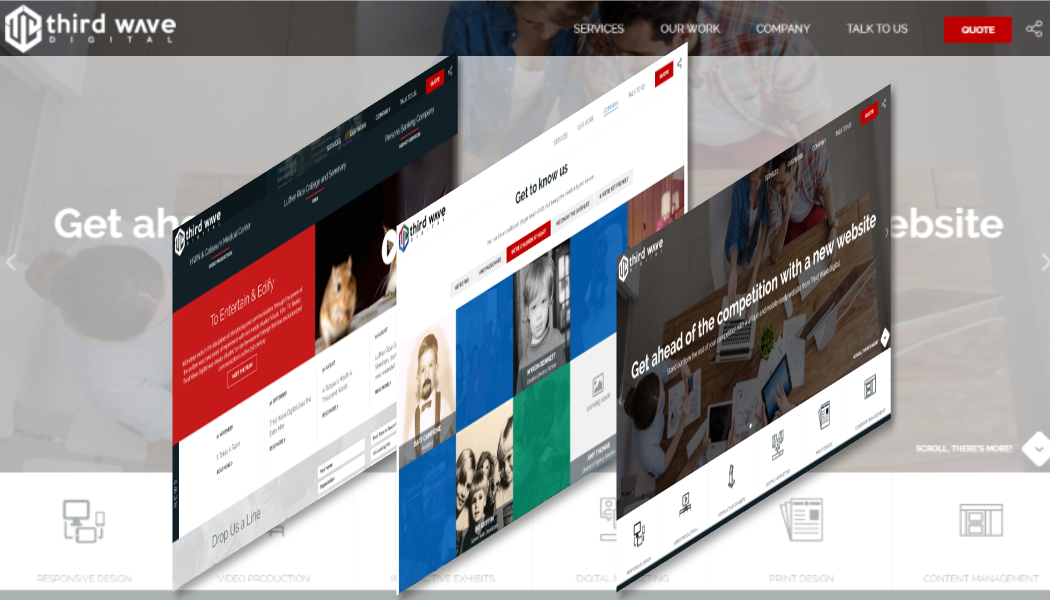 This year, Third Wave Digital celebrates its 20th anniversary in business. Through dedication and resilience to riding the digital wave, TWD prides itself on staying ahead of the curve in providing clients with cutting-edge technological marketing solutions. As a full-service digital marketing agency, the first impression for our clients usually happens when they click on our website. Moving with the times, we wanted to create an experience that held true to our purpose.
Third Wave Digital's website and logo have both been refreshed for a new look in the new year. The new website contains both unique elements and trendy tropes from the wild word wide web. The grid system, colors, typography, design direction and overall imagery have all been updated and aligned to not only redefine the Third Wave brand, but also reinforce the user experience and increase the site's efficacy across even more devices and users with disabilities.
Recently revealing a brand new logo and look, Third Wave is excited to announce a newly redesigned, responsive website. Previously broken up into two websites,TWD3.com and ThirdWaveDigital.com, Third Wave Digital now has one combined site under the Thirdwavedigital.com sitemap. Our goal is make navigation of our site more user-friendly through desktop and mobile platforms.
Through a hybrid, long-scroll, interactive homepage, a first time user has access to information about our services, news , latest work and much more. Third Wave Digital is fortunate to provide a plethora of services for almost any marketing need, therefore it was important to have a website accurately represent our offerings while still staying true to our brand.
A highlighted custom feature on the new website is the custom 'Meet the Team' Page. This page puts faces and personality to names in our company. The user also can learn more about each team member with a click of a button. We are friendly, fun-loving and hard-working company. Our goal is to display this throughout our website.
The new website has increased functionality, enhanced user experience (UX), and a sophisticated look. Internal consistency within the site has also improved as well as content optimization and organization. Third Wave Digital's outstanding team of seasoned professionals worked in tandem to create the new site, which takes advantage of each team member's diverse skill set.
Check it out at http://www.thirdwavedgital.com today!
---
---