Third Wave Digital captures the IMA Best in Class Award for the Young Harris College Virtual Tour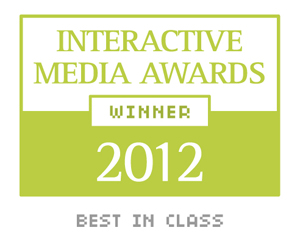 Third Wave Digital's creative team has the honor of announcing a win from the Interactive Media Awards (IMA) for College website development services. The Best in Class award was presented to Third Wave Digital (TWD) for the design and development of Young Harris College's Virtual Tour http://www.yhc.edu/tour/.
When Young Harris College decided to revamp their marketing and recruitment efforts with a new branding campaign, they turned to Third Wave Digital for one-of-a-kind interactive student tour experience. The Prospective Student Tour portal gave Third Wave Digital the opportunity once again to stretch the bounds of technology for higher education recruitment tools.
The IMA's recognize outstanding achievement in interactive design and development once a year. TWD was awarded "Best in Class" in the college category. To receive the Best in Class award, entered websites must excel in all areas of judging criteria and represent a very high standard of planning, execution and overall professionalism. This year's competition featured forty-five entries and each was judged on design, content, feature functionality, useability, standards compliance and cross-browser compatibility.
This is the 7th IMA award that Third Wave Digital has won for higher education website design. Previous Outstanding Achievement Awards include: Commercial Diving Academy (2010), Florida Keys Community College (2008), College of Health and Human Sciences (2007). The Best in Class award for Mercer University admissions website was awarded in 2006 and also this year for Davis and Elkins website.
"We're very pleased with the IMA's recognition," said Myron Bennett, Creative Director at Third Wave Digital. "The Young Harris College Interactive Tour offers a remarkable and engaging way of learning about the YHC experience without setting foot on campus. This marks our third 'Best in Class' award from the IMA," he added. "We believe it recognizes our unique ability to create rich multimedia experiences for our higher education clients."
About Young Harris College
Founded more than 125 years ago and historically affiliated with The United Methodist Church, Young Harris College has been transformed into a progressive model of liberal arts education featuring innovative academic programs, state-of-the-art facilities and competitive NCAA Division II athletics. Nestled in the southern Appalachian mountains of northeastern Georgia, with more than 1,000 students on its campus, Young Harris College provides an intimate setting that allows students and faculty to work closely, forging nurturing relationships and strong bonds that endure well past graduation.
About Third Wave Digital
Third Wave Digital is a comprehensive web design, development and support firm specializing in complex web presence creation for small to mid-sized businesses and higher education institutions. Third Wave Digital is a division of Colbarton Corporation which offers full service advertising agency services and complete Web hosting solutions. Third Wave Digital is headquartered in Macon, Georgia with satellite offices in Atlanta, Georgia and Orland, Florida. For more information about Third Wave Digital, call 888-578-7865, click http://twdcampustours.com/ or email info@thirdwavdigital.com.
The materials found in this digital press collection are copyright owned, held, or licensed by the Colbarton Corporation and are available for personal, non-commercial, and educational use, provided that ownership of the materials is properly cited. Any commercial use of the materials without the written permission of Colbarton Corporation is strictly prohibited. For permission to use specific materials, please contact info@thirdwavedigital.com.
Copyright© 2013 Third Wave Digital
---
---