Third Wave Digital announces launch of latest higher education website for Davis and Elkins College
FOR IMMEDIATE RELEASE- October 8, 2012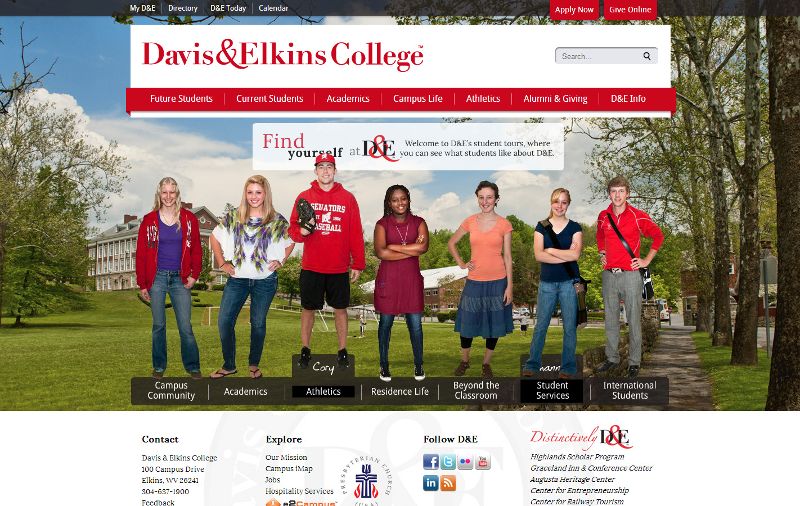 Elkins, WV- In conjunction with a 1.4 million dollar brick and mortar infra-structure upgrade, West Virginia's Davis and Elkins College (D & E) today unveils a new online presence with the launch of their completely redesigned website, http://www.dewv.edu/.
This dynamic, interactive site is part of the college's efforts to create the best possible online experience for current and prospective students and parents while also addressing the needs of an increasingly mobile audience. To capture the authentic voice of its students and utilize the most advanced technological innovations in college website design, D & E turned to higher education website design experts Third Wave Digital (TWD).

"We selected TWD based on their creative approach, and we have found their team to be equally expert on technical issues. Having them redesign and help launch our new website has been an extremely positive experience," said Carol Shuler, D & E's Associate Vice President for Communications and Marketing.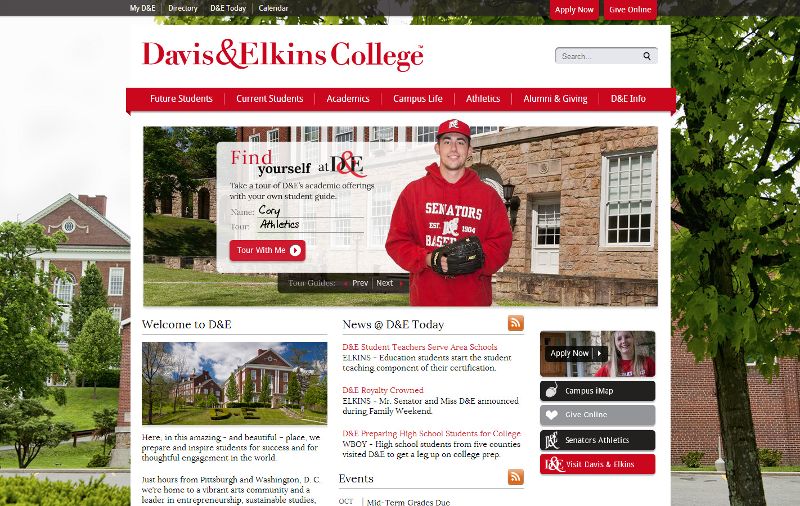 Nestled high in mountains of scenic West Virginia, D & E is steeped in cultural and historical tradition; a hidden treasure flanked on all sides by a natural landscape. So connected is
this college's location to it its campus culture, that the creative team at Third Wave Digital knew a major goal of http://www.dewv.edu/ was to take the mountains, the school, the student body and translate it into an interactive digital experience. Third Wave Digital responded with the creation of a "push" technology site loaded with cutting-edge features and functionalities wrapped in an engaging graphic user interface that is both inviting and intuitive.
Taking the concept of "Find Yourself at D & E" a step further, Third Wave Digital also recruited the college's own students to serve as an online student tour guides for website visitors. Through a series of custom created interactive student tours, D & E comes to life.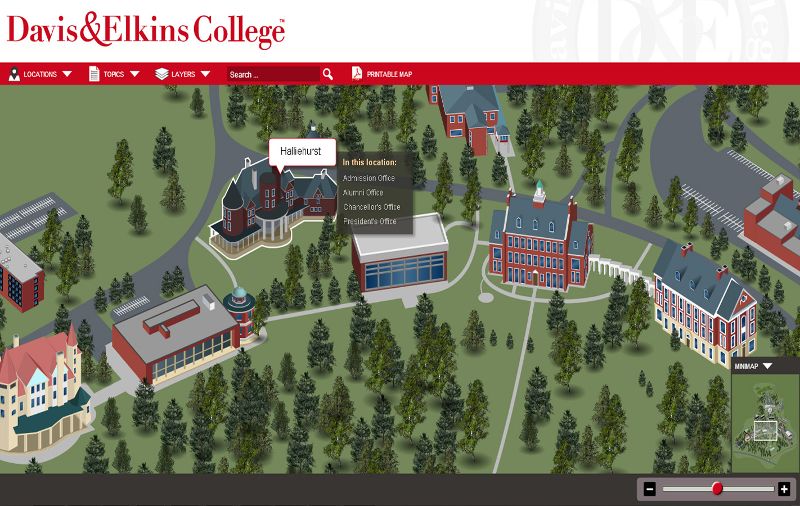 Boasting over 15 minutes of interactive student led video tours; www.dewv.edu gives prospective students a chance to see D & E through the eyes of their future classmates. Each student tour features links to related topics and pages, and personalized photo galleries. The entire experience is available to mobile browsers with custom coded HTML and jQuery presentations for iPhone, iPad and Android devices.
"The Davis and Elkins website seamlessly integrates a highly-interactive rich media experience across all platforms--desktop, tablet or mobile phone," said Myron Bennett, Director of Creative Services at TWD. This type of cross-platform compatibility helps ensure that D & E's marketing message is reaching all segments of an increasingly mobile audience."
To further help students see the campus, buildings and activities, Third Wave Digital also created a customized interactive campus map using custom illustrations of D & E. The interactive campus map, available at: http://www.dewv.edu/map.html, allows website and campus visitors to get to know the ins and outs of the campus, while learning more about each building through key content and built in photo slideshows.
And, to make it easy for the D & E to keep their site current, TWD worked closely with members of The Longsight Group to integrate TWD's design and code on the open source, Drupal-powered Content Management System. This collaboration included working together to also offer a streamlined mobile experience platform for users not wishing to engage in the full site experience.

About Davis & Elkins
Davis & Elkins College is accredited by the Commission on Institutions of Higher Education of the North Central Association of Colleges and Schools. D&E is also nationally accredited in Nursing, Education, and Theatre and internationally accredited in business programs. Davis & Elkins is located in Elkins, West Virginia.

About Third Wave Digital
Third Wave Digital is a comprehensive web design, development and support firm specializing in complex web presence creation for small to mid-sized businesses and higher education institutions. Third Wave Digital is a division of Colbarton Corporation which offers full service advertising agency services though Third Wave Advertising, and complete Web hosting solutions through Third Wave Host. Third Wave Digital is headquartered in Macon, Georgia with satellite offices in Atlanta, Georgia and Orlando, Florida. For more information about Third Wave, call 888-578-7865, click www.twd3.com or e-mail info@thirdwavedigital.com.
---
---