Third Wave Digital Wins Gold Again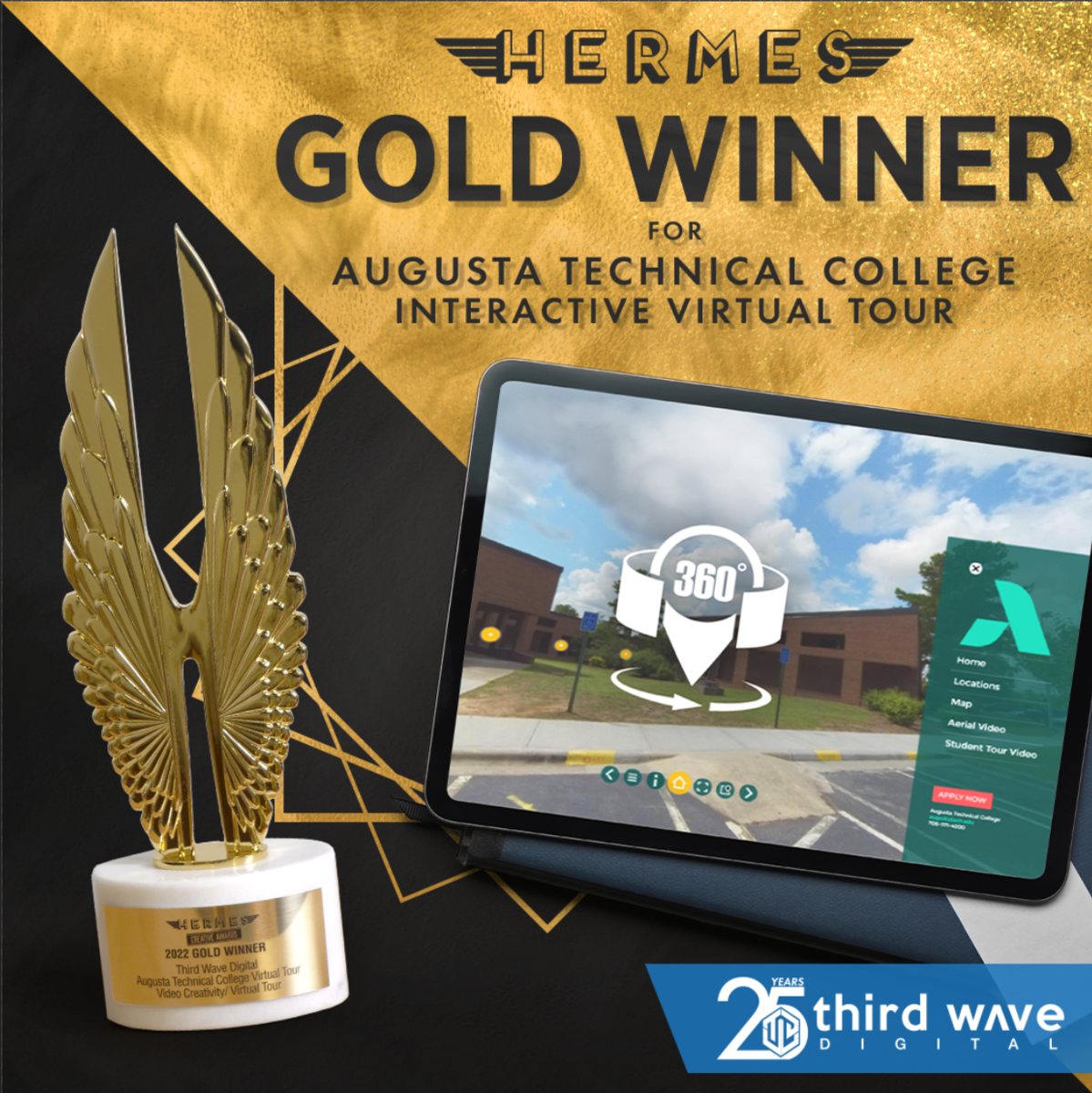 MACON, GA September 9, 2022- Third Wave Digital has been awarded gold for the 16th Annual Hermes Creative Awards in Video Creativity/ Virtual Tour for our Augusta Technical College virtual tour.
The Hermes Creative Awards is an international competition that honors artistic professionals and organizations for their creative work through traditional and digital platforms. The Hermes Creative Award is one of the oldest and largest creative competitions in which winners range in size from individuals to Fortune 500 companies.
This year the categories were divided into Print Media, Public Relations/Communications, and Electronic/Social/Interactive Media. Entries were judged at random and designed to recognize recently completed projects. Nominees were evaluated on their achievements and organizational impact. Third Wave Digital is enthusiastic about acknowledging an additional achievement for our work done for Augusta Technical College.
Third Wave Digital partnered with Augusta Technical College to create an Interactive Virtual Campus Tour to market their campus to prospective students. Our Award-Winning Virtual Tour features highlighted locations on the main campus, informational tags, and photo galleries throughout the virtual campus tour.
Once again, we thank Augusta Technical College for the partnership, as it has allowed our work to be recognized by various channels as award-winning creative. Learn more about the Virtual Tour services Third Wave Digital provided.
About Augusta Technical College
Augusta Technical College is a two-year institution of higher education, that offers programs and industry training for adults in the Augusta, Georgia area. Augusta Technical College is a two-year public technical school, that offers business and industry training, student support, economic development, and adult education services.
About Third Wave Digital
For 25 years Third Wave Digital has been in the business of providing communication excellence to our clients through digital and traditional marketing & advertising services. Third Wave Digital is headquartered in Macon, Georgia and serves clients across the United States. Third Wave Digital offers a comprehensive array of services from website development, hosting and technical support to digital marketing and traditional advertising agency services. Specialty services include complete video production and post-production editing facilities, licensed drone operators and 2D-3D animation capabilities. For more information, contact Third Wave Digital at 1-888-578-7865 or at www.thirdwavedigital.com.
---
Tags:
Augusta Technical College interactive virtual tour
Award winning interactive virtual tour
Third Wave Digital award winning
Hermes award winning
Third Wave Digital virtual tour
Third Wave Digital
---