Third Wave Digital Welcomes Haley Nunn
MACON, GA, September 12,2022 – Third Wave Digital, Central Georgia's foremost comprehensive creative agency, continues to grow by offering all-inclusive advertising, marketing, and creative services to meet the needs of its clients in today's traditional and ever-increasing social media and digital marketing environment. To uphold our reputation for superior client service, we are pleased to announce the addition of Haley Nunn, as Videographer and Editor for Third Wave Digital.
Haley will work closely with Production Coordinator, Patrick Grella to continue to provide Third Wave Digital clients with high-quality creative solutions. "I am honored to have the opportunity to work for such a driven company and with so many friendly people. I'm proud of what I've done here already and am excited to grow and do more!" Haley stated.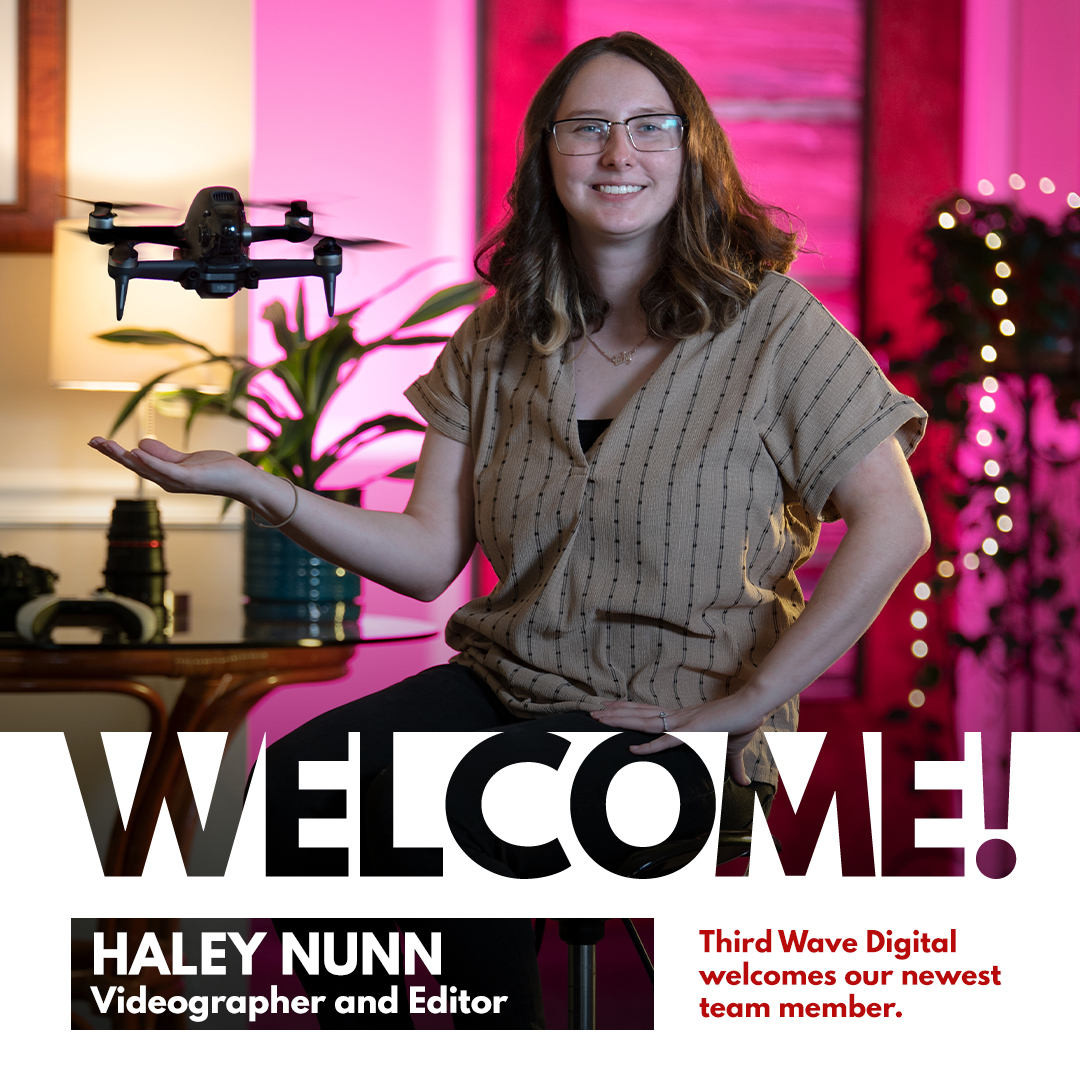 Haley is from Gray, Georgia and graduated from Clayton State University where she received her bachelor's degree in Film Production. As early as the fifth grade, Haley has always been fascinated with the behind the scenes work of all things Film and Video Production. It all started when her dad first showed her the special features on DVDs like Spiderman (2002), Star Wars, and Forrest Gump.
As much as she enjoys movie production, Haley also enjoys smaller community involvement with her work. Helping others achieve their vision, brings Haley joy. One way she's experienced this is through her local church, by making announcement and highlight videos. Since graduating Haley has also worked with Georgia College and State University to create animated graphics for their video production team and TV broadcasting department. Apart from her passion of video production, Haley enjoys spending her free time to create art, play video games, listen to music, or to hang out with her friends, family, and husband to be.
Myron Bennet, Creative Director, and Partner of Third Wave Digital, had this to say about the addition of Nunn to the team, "I'm excited to have Haley on board.  In her short time with the company, she's already shown herself to be a versatile team player, both on set and in post.  Her skills and great attitude are an asset to the company and I'm looking forward to seeing her grow as a member of our team."   
About Third Wave Digital
For 25 years Third Wave Digital has been in the business of providing communication excellence to our clients through digital and traditional marketing & advertising services. Third Wave Digital is headquartered in Macon, Georgia and serves clients across the United States. Third Wave Digital offers a comprehensive array of services from website development, hosting and technical support to digital marketing and traditional advertising agency services. Specialty services include complete video production and post-production editing facilities, licensed drone operators and 2D-3D animation capabilities. For more information, contact Third Wave Digital at 1-888-578-7865 or at www.thirdwavedigital.com.
---
Tags:
Haley Nunn
Haley Nunn videographer and editor
Third Wave Digital video production
Third Wave Digital
---