Third Wave Digital Releases Admission Videos for FVSU
MACON, GA, December 29, 2022 – Third Wave Digital, Central Georgia's foremost comprehensive creative agency, offers all-inclusive advertising, marketing, and creative services to meet the needs of its clients in todays' traditional and ever-increasing social media and digital marketing environment. To uphold our reputation for superior client service, we are pleased to highlight our work with Fort Valley State University.
Third Wave Digital partnered with Fort Valley State University to create a series of admissions videos highlighting academic programs, student clubs, and organizations.
The goal of this project was to assist FVSU by enhancing its current admissions marketing materials by creating videos that could be used as a tool to reach prospective students on multiple digital platforms.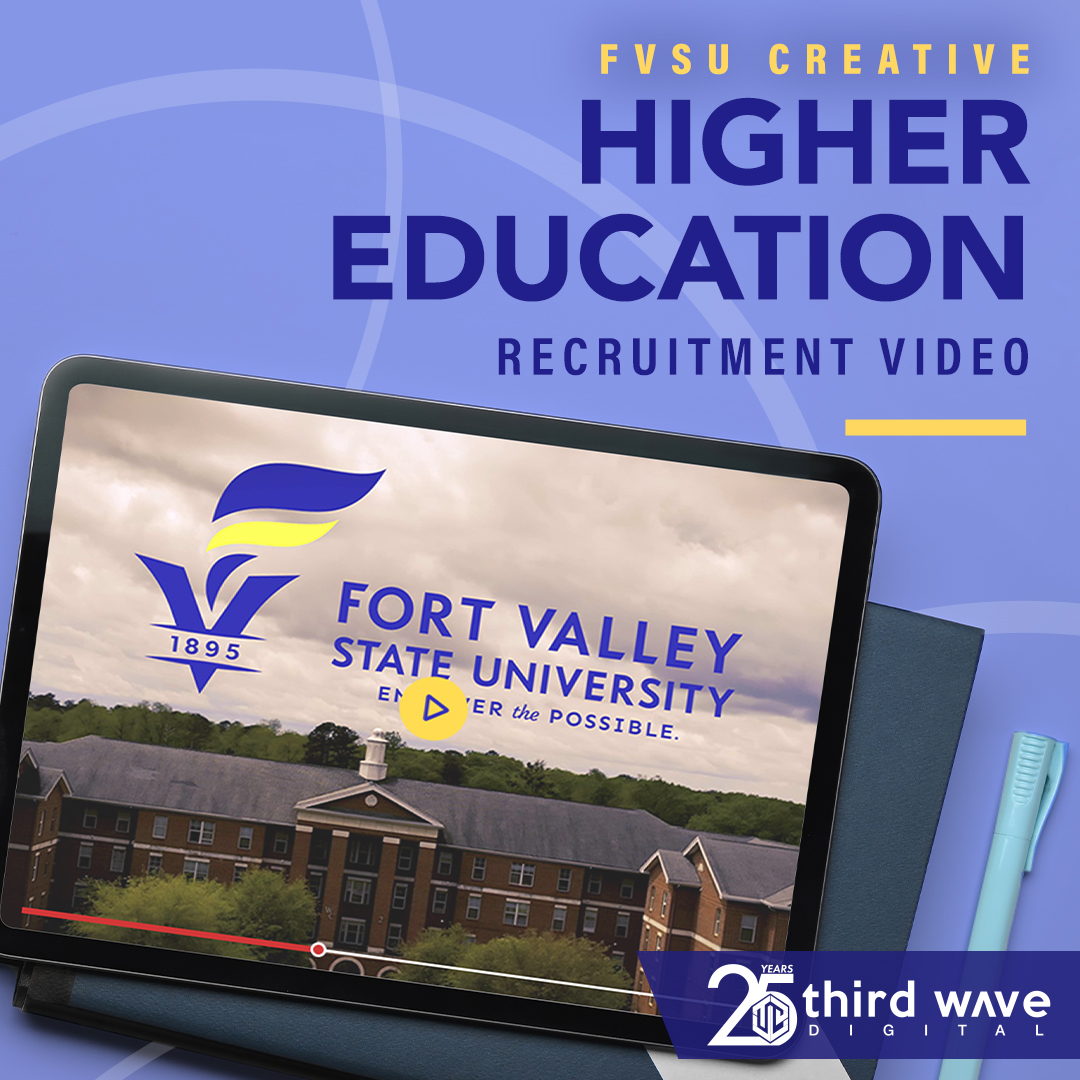 Our creative team handled the beginning to the end of this project through script writing and creation, storyboarding, voice talent, video recording, and editing.
The admissions videos include one 60-second video and two 30-second videos that were shot on advanced tools such as 4K video capture and a state-of-the-art aerial platform, that accurately recorded the passion and love the FVSU students display for their campus.
These videos were created to be multi-purposed and available to use for years to come. They are now available to the FVSU Admissions Team to be used on any platform from website inclusion, broadcast TV spots, Social Media posts, emails to prospective students, and on digital marketing platforms such as YouTube and more.
Please feel free to view the FVSU Admissions Videos HERE
FVSU is a public land-grant historically black university created in 1895, that is a part of the University System of Georgia, that enrolls over 2,500 students over various programs on the graduate and undergraduate levels.
Creative Project Overview of Services Provided:
Assemble and Oversee Production Crew
Management of Production Requirements
On-location Shooting
Postproduction Services
Script Writing
Video Editing
Voice Talent
Producing
About Third Wave Digital
For 25 years Third Wave Digital has been in the business of providing communication excellence to our clients through digital and traditional marketing & advertising services. Third Wave Digital is headquartered in Macon, Georgia and serves clients across the United States. Third Wave Digital offers a comprehensive array of services from website development, hosting and technical support to digital marketing and traditional advertising agency services. Specialty services include complete video production and post-production editing facilities, licensed drone operators and 2D-3D animation capabilities. For more information, contact Third Wave Digital at 1-888-578-7865 or at www.thirdwavedigital.com.
---
Tags:
Higher education video production
Higher Education recruitment video
Third Wave Digital video production
fort valley state university
Third Wave Digital
---