Third Wave Digital Partners with Georgia Agriculture Experience
Recently, Third Wave Digital created a custom design communication solution for Georgia Agriculture Experience.
Georgia Agriculture Experience is a mobile classroom powered by the Georgia Foundation for Agriculture. This mobile classroom takes place in a moving trailer and includes games created and developed for students to play and learn about different elements within a farm.
Our team here at Third Wave Digital created an interface where the games will be easily located. The purpose of the interface is for teachers to use as a teaching and educational tool for students to get a hands-on learning experience about Georgia Agriculture.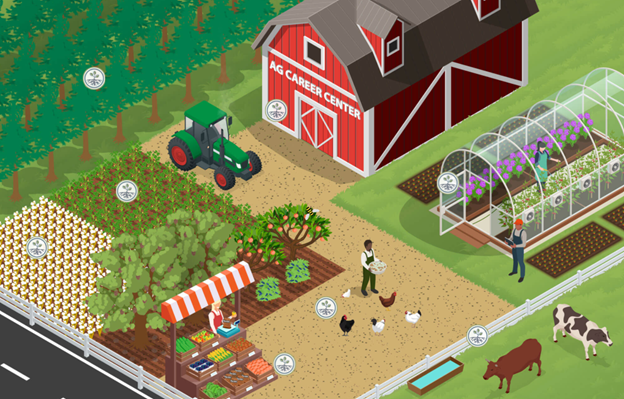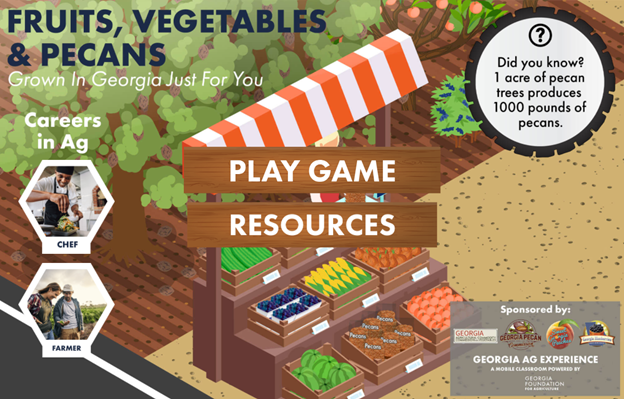 To highlight this project, we paid close attention to details as we included custom coding, as well as developed custom graphics with specific elements to mirror sponsors. For an example, at the vegetable station we specifically included images of vegetables, blueberries, pecans and peaches. This is because some of Georgia Agriculture Experience's sponsors include Georgia Agricultural Commodity Commission for Vegetables, Georgia Blueberry Commission, Georgia Pecan Commission, and Sweet Georgia Peaches.
There are multiple custom graphics that correlate with sponsors within the entire interface and are represented individually with the display of small circles users can click on.
The different circles allow users to navigate around the farm. Once clicked on, a new window expands and showcases careers, facts, and games about the specific area. Some windows include videos, virtual reality experiences, and resources for teachers to use as classroom materials. This interface works cross platform for accessibility on all electronic devices.
We are proud to partner with Georgia Agriculture Experience to help provide quality educational content for students to learn from, and we look forward to helping out similar programs as well.
To explore the interface click here.
About Third Wave Digital
For almost 25 years Third Wave Digital has been in the business of providing communication excellence to our clients through digital and traditional marketing & advertising services. Third Wave Digital is headquartered in Macon, Georgia and serves clients across the United States. Third Wave Digital offers a comprehensive array of services from website development, hosting and technical support to digital marketing and traditional advertising agency services. Specialty services include complete video production and post-production editing facilities, licensed drone operators and 2D-3D animation capabilities. For more information, contact Third Wave Digital at 1-888-578-7865 or at www.thirdwavedigital.com.
---
Tags:
Georgia Agriculture Experience
Interactive Game
Interface
---