Third Wave Digital Launches Region B Healthcare Coalition Website!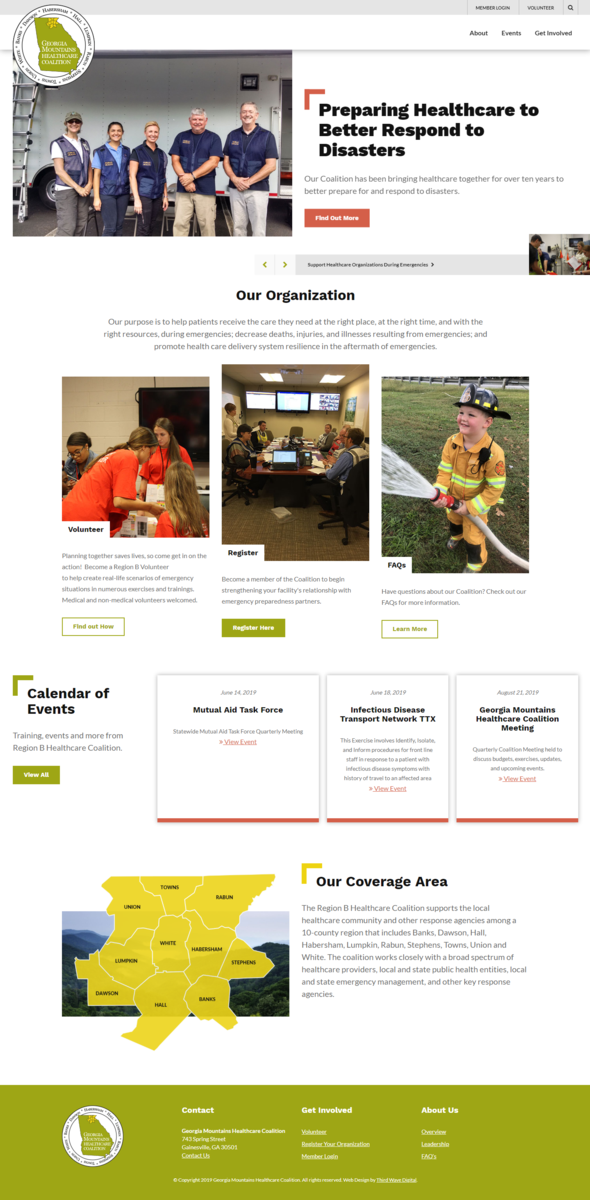 The Region B Healthcare Coalition teamed up with Third Wave Digital to create a custom website that would function as an informative, yet attractive website where new organizations within the Georgia Mountain region can register to be a part of the healthcare coalition.
Custom Registration & Membership Tools
Third Wave Digital was able to accomplish this goal by building a custom Registration Login and Membership Login tools. The Registration login tool allows new organizations to join as part of the coalition. Administrators have access control to approve and/or deny organizations, as well as edit their information, and export lists. Once an administrator approves an organization, the members of that organization can use the Membership Login tool to create individual member accounts and take advantage of the resources stored behind the password protected pages.
Custom Website Design with CMS Plug-ins
In addition to the custom tools created, the newly developed website is powered by Third Wave Digital's content management system. This allows site administrators to easily update and manage the website's content. Third Wave Digital also incorporated some of the CMS plug-ins including the rotator manager, photo gallery, and an event's calendar. The Photo Gallery application allows Region B administrators to upload photos to feature their trainings, exercises, and volunteers in multiple galleries. The Calendar application allows administrators to create new calendar events and organize them according to categories.
Some of the new website features include:
Responsive website design
Custom login tools
Content Management System implementation with plug-ins: Event Calendar and Photo Galleries
Website hosting and support
About Region B Healthcare Coalition
When a disaster hits a community or a region, the entire healthcare system will be impacted and will have to respond. All healthcare organizations, from the largest hospital to a small community health center, will need to work together in a coordinated fashion to effectively respond to the disaster and work towards recovery. The Region B Healthcare Coalition is one of fifteen Healthcare Coalitions that make up the state of Georgia. Region B covers the Georgia Mountains part of the state, and their purpose is to support their local healthcare community and other response agencies to jointly plan for and respond to emergencies.
About Third Wave Digital
For over 20 years Third Wave Digital has been in the business of providing communication excellence to our clients through digital and traditional marketing & advertising services. Third Wave Digital is headquartered in Macon, Georgia and serves clients across the United States. Third Wave Digital offers a comprehensive array of services from website development, hosting and technical support to digital marketing and traditional advertising agency services. Specialty services include interactive exhibit design, print design and complete video production services. For more information contact Third Wave Digital at 1-888-578-7865 or at www.thirdwavedigital.com.
---
Tags:
website design and development
custom web tools
---