Third Wave Digital Launches Community Marketing Initiative for Non-Profits
In an effort to give back to the community in which we call home, Third Wave Digital (TWD) will be identifying local nonprofits in need of marketing services and help to increase the visibility of their organization. TWD will provide these organizations with a variety of essential marketing and support services to aid in the growth of their community focused mission.

The first organization Third Wave Digital selected to work with is The Macon Alumnae Chapter (MAC) of Delta Sigma Theta Sorority, Inc. The Macon Alumnae Chapter (MAC) of Delta Sigma Theta Sorority, Inc. is comprised of more than 150 dedicated, civic-minded, college-educated women, who are committed to "Serving with Passion and Purpose" the citizens of Bibb, Jones, Monroe, Twiggs, and Wilkinson counties. Since their incorporation on April 26th, 1958, The Macon Alumnae Chapter of Delta Sigma Theta Sorority, Inc remains steadfast and committed to continue to serve and support Middle Georgia.
This organization hosted a COVID-19 Vaccine Virtual Summit program with the goal to educate communities about the vaccine and for an expert panel to inform and educate with fact-based details. Third Wave Digital assisted Delta Sigma Theta in the creation of a TV commercial and provided a marketing strategy to assure their message was distributed widely in our Middle Georgia Community.
Joan Whitehead, President of The Macon Alumnae Chapter of Delta Sigma Theta conveyed the following to TWD: "We appreciate all of your efforts to coordinate our media advertisements to promote this event on two TV stations and multiple radio stations. Your most professional efforts resulted in the participation of more than 300 people in our community on Zoom and on FaceBook. We thank you for your support and dedication in helping us to bring this expert panel of physicians and public health professionals to educate our community about the history of mistrust in the African American community, vaccine development and trials, the importance of getting vaccinated, and dispelling the myths surrounding the COVID-19 vaccines."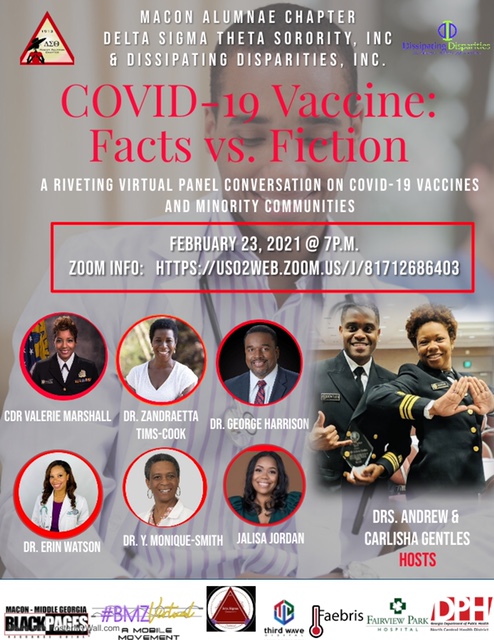 In regards to Third Wave Digital's Community Marketing Initiative, Agency Manager, Crystal Coker, stated, "In a time where so many nonprofits that do so much good for our community are being faced with budget shortages our team knew we had to step up and do our part to help out! We hope our skills can help these organizations better communicate their message and maximize their reach by using the correct advertising platforms. Sharing in their success, which in turn helps others in our community in so many ways, is our goal."
If you know of a worthy non-profit organization that has a message in need of reaching a larger audience, please go to
https://www.thirdwavedigital.com/talk-to-us/project-quote/
and find out more about Third Wave Digital's initiative to help make our local community to become a better place to live, work and play.
About Third Wave Digital
For over 20 years Third Wave Digital has been in the business of providing communication excellence to our clients through digital and traditional marketing & advertising services. Third Wave Digital is headquartered in Macon, Georgia and serves clients across the country. We offer a comprehensive array of services from website development, hosting and technical support to digital marketing and traditional advertising agency services. We offer complete video production and post-production editing facilities, animation design and licensed Drone operators. For more information contact Third Wave Digital at 1-888-578-7865 or at www.thirdwavedigital.com.
---
Tags:
non profit
delta sigma theta
Third Wave Digital
Macon
ga
community outreach
---