Third Wave Digital Creates New Website for Shorter University Admissions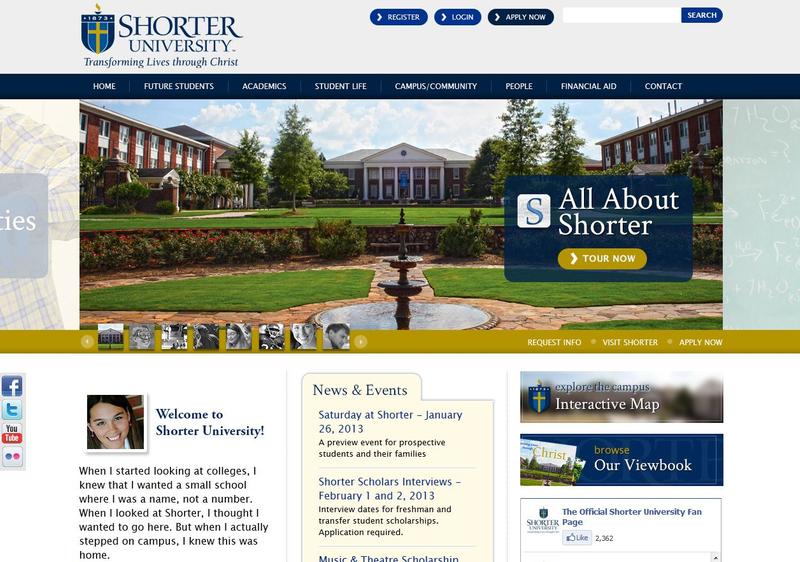 Student recruitment tool provides immersive experience at Shorter University.

MACON, Ga., Jan. 23, 2013-- Today's graduating seniors are more connected to technology than ever before, resulting in a need for sophisticated recruitment tools for colleges and universities alike. With the constant motion of student recruitment, it is necessary to have ever evolving admissions tools that engage and quickly inform prospective students. This was the case for the Office of Admissions at Shorter University, which today announced the launch of their latest student recruitment tool admissions.shorter.edu.

Boasting over 15 minutes of interactive student led video tours, admissions.shorter.edu gives prospective students a chance to explore and experience Shorter University without stepping foot on campus. Each student tour features links to related topics and pages, and personalized photo galleries. The entire experience is also available on mobile devices with custom coded HTML and javascript presentations for iPhone, iPad and Android devices.

"The multimedia content of the new site allows prospective students to experience Shorter for themselves," said Patrick McElhaney, Director of Admissions. "The videos feature current students sharing the various aspects of university life and the reasons they chose Shorter."

This redesigned admissions website, admissions.shorter.edu, features eight video tours that provide an overview of the Shorter University experience. Topics include: All about Shorter, Academics, Faith, Campus Life, Residence Life, Athletics, Service in Action, and Learning Communities. Shorter University's admissions website also includes dynamic content that links the page directly to the university's official Twitter and Facebook feeds.

"Our aim with the new site is to streamline the admissions process for prospective students and to give them the information to match their needs at each step along the way," said McElhaney.

Third Wave Digital provided full integration with Shorter University's recruitment and retention platform (Jenzabar). This allows prospective students to view customized content on the website as they move through each state of the recruitment funnel at Shorter.

Shorter University's new website not only allows students to view tours from the student's perspective but to also have a bird's eye view of the campus using an interactive campus map: admissions.shorter.edu/map. With this map, prospective students can easily perform searches, zoom in and out, and click on individual buildings to get a description, photos and related links . With this powerful tool, future students can familiarize themselves with campus before their first day of school.
Developed by Third Wave, this site is instrumental to helping Shorter to reach their recruitment and marketing goals.

"The team at Third Wave Digital did a great job helping us tell the Shorter University admission story in an engaging, accessible way," said Dawn Tolbert, associate vice president for university communications at Shorter. "From creating the website's interactive design to scripting, filming, and editing the video tours, Third Wave provided a great customer experience that resulted in a first-rate website for our institution."

This new admissions website, admissions.shorter.edu, comes equipped with a full back-end Content Management System (CMS) that allows Shorter University's administrators to easily add or edit the website's content and images, as well as create new pages as the site continues to grow. This custom CMS from Third Wave Digital allows Shorter University to grow their web presence long after the site's launch. Third Wave Digital also provides full hosting and support services for admissions.shorter.edu.

To view all of the new features of their latest website or to learn more about the university, visit https://admissions.shorter.edu/.

About Shorter University

The Mission of Shorter University is to provide quality higher education, enabling and encouraging student commitment to active life-long learning, personal spiritual values, responsible citizenship, and community and societal leadership in a global context.

The University seeks to accomplish this Mission through quality undergraduate liberal arts programs, specialized professional programs, and select graduate programs. Geographically distant locations and online classes provide educational opportunities to individuals who are unable to attend classes in a traditional setting.

The University affirms a commitment to the Christian faith and strives to integrate Christian values within a nurturing community within its whole process of education.

About Third Wave Digital

Third Wave Digital is a comprehensive web design, development and support company specializing in complex web presence creation for small to mid-sized businesses and universities. Third Wave Digital is a division of Colbarton Corporation which offers full service advertising agency services though Third Wave Advertising and complete web hosting solutions through Third Wave Host. Third Wave Digital is headquartered in Macon, Georgia with satellite offices in Atlanta, Georgia and Orlando, Florida. For more information about Third Wave, call 888-578-7865 , click www.twd3.com or e-mail info@thirdwavedigital.com.


---
---