Third Wave Digital Announces the launch of the 21st Century Partnership's new Website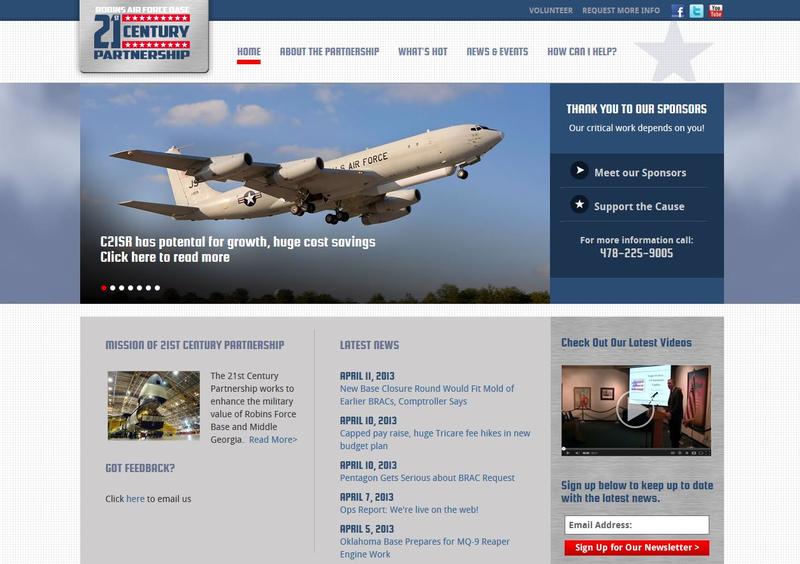 21st Century Partnership serves as a key ally for the Middle Georgia regional area by enhancing the military value of Robins Air Force Base. They were in need of a new online presence were they could disseminate up-to-date information about their goals, Sequestration and BRAC. For this critical initiative, they turned to the web experts in the market, Third Wave Digital, to assist in expertly crafting this message to the public through their new website.

The newly designed website http://www.21stcenturypartnership.com/ features a custom design , easy navigation and a slideshow, featuring information on Robins Air Force Base and hot topics. The website also features a press release tool, links to relevant social media and an option to sign up for their newsletter. The site also features Third Wave Digital's TWD.CMS5, a robust Content Management System that allows the 21stCentury Partnership to their content fresh and current.

"As a military wife and resident of middle Georgia, this project was especially important to me. I am honored we were able to provide the 21st Century Partnership with an effective online presence that allows them to continue the essential work they do" said Carla Schwab, Operations Director of Third Wave Digital.

"Third Wave Digital provided top-notch support and professionalism from the inception to the completion of our website," stated Crissy Miner, Chief Operating Officer of 21st Century Partnership. " Their stalwart efforts produced a global communication platform that will greatly enhance the effectiveness of our organization."

About 21st Century Partnership

The 21st Century Partnership works to enhance the military value of Robins Force Base and Middle Georgia. They work closely with the local, regional, state and national governments, regional chambers, development authorities, and other interested parties to ensure the long-term viability and sustainability of Robins Air Force Base and economic development throughout the region.

About Third Wave Digital

Third Wave Digital is a comprehensive web design, development and support company specializing in complex web presence creation for small to mid-sized businesses and universities. Third Wave Digital is a division of Colbarton Corporation which offers full service advertising agency services though Third Wave Advertising and complete web hosting solutions through Third Wave Host. Third Wave Digital is headquartered in Macon, Georgia with satellite offices in Atlanta, Georgia and Orlando, Florida. For more information about Third Wave, call 888-578-7865, click www.twd3.com or e-mail info@thirdwavedigital.com.


---
---