Third Wave Digital Announces the Launch of the Macon Economic Development Commission's Newly Redesigned Website.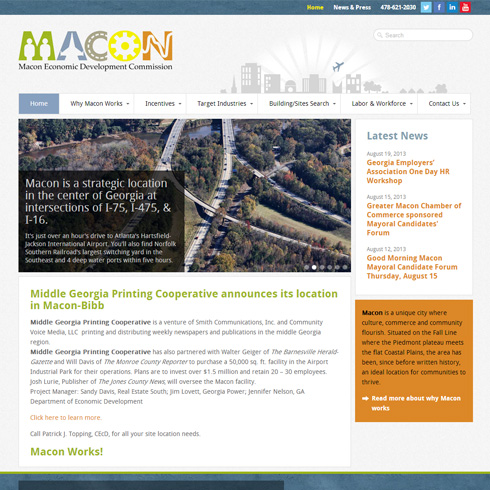 In keeping up with the latest technology the Macon Economic Development Commission enlisted the services of Third Wave Digital to completely redesign their website. The Macon Economic Development Commission's new site comes complete with interactive aerial maps, multimedia presentations and an abundance of relevant statistical data about Bibb County and the city of Macon. The new www.maconworks.com also gives users an in-depth view of Middle Georgia's industries while intuitive navigation and multimedia presentations create a powerful online experience that showcases one of Macon's key strengths, location. Just minutes south of Atlanta, Macon has become an attractive municipality for business relocation. A population of over 390,000 in a 30 mile radius; 4 major seaports within 4 hours truck travel time; international airfreight facilities only 75 minutes away; 2 rail roads and the largest rail switching center on the East coast make Macon an ideal location.
At the heart of all this technology is Third Wave Digital's comprehensive Content Management System that includes a robust set of tools that allow MEDC's site administrators the ability to make content updates, manage site pages and navigation, assign and monitor users, and much more. The site is also enabled with online communication forms, a press release manager tool, and a masthead banner manager that keeps the home page fresh while providing a powerful resource for all of the Macon Economic Development Commission's marketing efforts. Since the launch of the new www.maconworks.com website, Third Wave Digital has provided complete support, maintenance and hosting.
The Macon Economic Development Commission (MEDC) is responsible for recruiting new industries to Macon-Bibb County as well as assisting existing companies with expansion projects. Serving as the 'single point of contact' between companies looking for sites and buildings in Macon and Bibb County, MEDC will coordinate with the local and state agencies involved in the site location process.

About Third Wave Digital
Third Wave Digital is a comprehensive media design company specializing in a wide array of digital media competencies including digital video production, website design & development, content management system development & support and complete web hosting services. Third Wave Digital clientele represents a diverse cross section of mid to large sized businesses and a heavy concentration of higher education institutions seeking award winning creative services in the areas of web design and digital media. Third Wave Digital is headquartered in Macon, Georgia with satellite offices in Atlanta, Georgia and Orlando, Florida. For more information about Third Wave, call 888-578-7865, click www.twd3.com or e-mail info@thirdwavedigital.com.
The materials found in this digital press collection are copyright owned, held, or licensed by the Colbarton Corporation and are available for personal, non-commercial, and educational use, provided that ownership of the materials is properly cited. Any commercial use of the materials without the written permission of Colbarton Corporation is strictly prohibited. For permission to use specific materials, please contact info@thirdwavedigital.com
Copyright© 2013 Third Wave Digital
---
---