Third Wave Digital Announces the Launch of Their Latest Higher Education Website for Southern Union State Community College
FOR IMMEDIATE RELEASE-
Third Wave Digital Announces the Launch of Their Latest Higher Education Website for Southern Union State Community College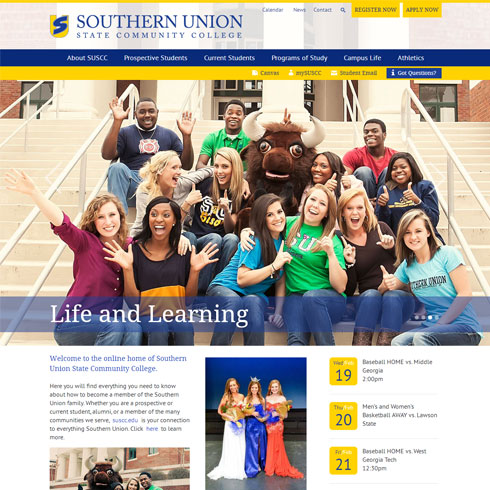 Wadley, Alabama (February 20, 2014) – Third Wave Digital provided Southern Union State Community College ( SUSCC) with a student-centered, dynamic and highly engaging redesigned web presence. The new college website provides an enhanced home page experience and user friendly interface that is intuitive and easy to navigate.

In addition to the complete redesign and development of suscc.com, Third Wave Digital implemented a completely customized events manager and calendar tool that makes adding, editing, and deleting events easier than before. This custom tool allows for the site administrators to keep students informed of both current and future events, in a manner that is familiar and easy to use.

Third Wave digital also provided a complete content management system with an easy to use, full featured CMS. This system gives Southern Union Sate Community College site administrators access to a robust set of tools that allow them to make content updates, manage site pages and navigation, assign and monitor users, and much more. Third Wave will also continue to provide SUSCC with powerful web hosting and support after the launch to meet any needs of the new redesigned college website.
About Southern Union State Community College
Southern Union State Community College was formed on August 12, 1993, when the Alabama State Board of Education effectively merged Southern Union State Junior College and Opelika State Technical College. Each partner brought to the merger a history rich in tradition of service to students.
Southern Union State Community College, an open admission, public two-year college and member of the Alabama Community College System, provides quality and relevant teaching and learning in academic, technical, and health science programs that are affordable, accessible, equitable, and responsive to the diverse needs of our students, community, business, industry, and government.
Testimonial:
My experience with Third Wave Digital has been outstanding. Through each stage of the redesign of our website, TWD was nothing but exceptional! They were accommodating, accessible and always professional. The technical support did not end once the site went live; they continue to be a "go to" for questions and issues that arise. I would recommend them to any company looking to have a powerful presence on the web.
Shondae Brown
Southern Union State Community College
About Third Wave Digital
Third Wave Digital is a comprehensive web design firm specializing in online communications solutions for higher education institutions. We provide innovative website design & development, content management system development & support and complete web hosting services customized to fit your college or university's website redesign goals.
Third Wave Digital is headquartered in Macon, Georgia with satellite offices in Atlanta, Georgia and Orlando, Florida. For more information about Third Wave, call 888-578-7865, click www.twdcampustours.com , www.twd3.com, or e-mail info@twd3.com to find out how our services can increase your college or university enrollment and engage students.
---
---