Third Wave Digital Announces the Launch of New Community Service Board Website for Advantage Behavioral Health Services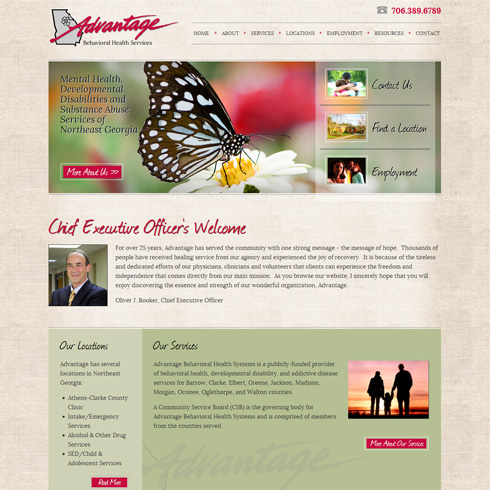 Athens, GA (January 24, 2014) – Third Wave Digital continues to expand its expertise of specialty websites with the launch of its newest Community Service Board (CSB) website, http://advantagebhs.org/, for Advantage Behavioral Health Services. Third Wave Digital provides a solid understanding of Community Service Board website design and their need to provide information about mental health services, substance abuse disorder management, and developmental disability services.

Third Wave Digital provided Advantage Behavioral Health Services with a custom designed CSB website that is dynamic and easy to navigate, giving the best possible online experience to users. The website also features an online communication form allowing visitors to easily contact ABHS staff with any question they may have.

In addition to a custom Community Service Board website design, Third Wave Digital implemented a complete back-end solution with a comprehensive Content Management System. This system gives Advantage Behavioral Health Service site administrators access to a robust set of tools that allow them to make content updates, mange site pages and navigation, assign and monitor users, and much more. The Third Wave Digital TWD.CMS is unique in that it allows the user to see the changes they are making before pushing them live to the site, allowing edits to be made in real time without exposing them to the public. Another unique feature of the TWD.CMS is that the user can view the changes they are trying to make as if they were looking at the site itself, without having to go in to a complicated, back end system. Third Wave Digital also provides ABH complete web hosting and on-going support of their website.

About Advantage Health Services
Advantage Behavioral Health Systems is a publicly-funded provider of behavioral health, developmental disability, and addictive disease services for Barrow, Clarke, Elbert, Greene, Jackson, Madison, Morgan, Oconee, Oglethorpe, and Walton counties.
A Community Service Board (CSB) is the governing body for Advantage Behavioral Health Systems and is comprised of members from the counties served.
About Third Wave Digital
Third Wave Digital is a comprehensive media design company specializing in a wide array of digital media competencies including digital video production, website design & development, content management system development & support and complete web hosting services. Third Wave Digital clientele represents a diverse cross section of mid to large sized businesses seeking award winning creative services in the areas of web design and digital media. Third Wave Digital is headquartered in Macon, Georgia with satellite offices in Atlanta, Georgia and Orlando, Florida. For more information about Third Wave, call 888-578-7865, click www.twd3.com or e-mail info@thirdwavedigital.com.

---
---