Third Wave Digital Announces the Launch of Latest Higher Education Website for Marion Military Institute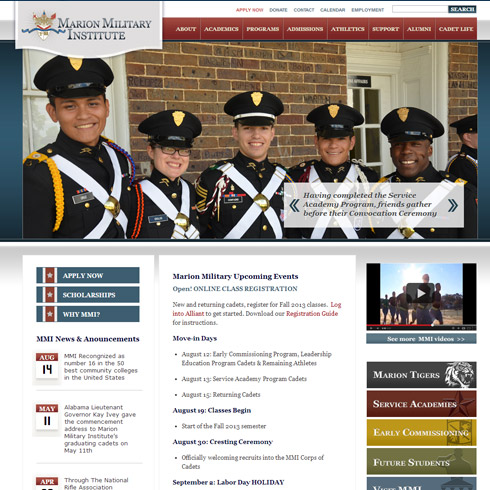 Marion, Alabama - Marion Military Institute relied on Third Wave Digital to once again redesign and develop their entire college website presence. They were in in a need of comprehensive website redesign that would continue to serve as an effective marketing tool and focus on accommodating the mobile experience of prospective students. If there is one thing that colleges and universities know, it's that all marketing communications have an expiration date. Websites need to be tweaked to stay in line with current trends of prospective students.
Third Wave Digital provided Marion Military Institute with a mobile plug-in solution that gives the site's administrators a set of tools that control the presentation of both the desktop and mobile websites from a single interface. This feature delivers a more user friendly experience to students accessing the site from their smart phones. This plug-in is just one tool of the full featured Content Management System implemented into this college website. This system gives Marion Military's site administrators access to a robust set of tools that allow them to make content updates, mange site pages and navigation, assign and monitor users, and much more.

The Third Wave Digital TWD.CMS is unique in that it allows the user to see the changes they are making before pushing them live to the site, allowing edits to be made in real time without exposing them to the public. Another unique feature of the TWD.CMS is that the user can view the changes they are trying to make as if they were looking at the site itself, without having to go in to a complicated, back end system. Third Wave will also continue to provide MMI with powerful web hosting and support after the launch to meet any needs of the new college website.
According to Marietta Holmes, Public Information Officer for Marion Military Institute, the new website exceeded expectations. "Incorporating our wish list of functions, Third Wave Digital worked with the MMI staff to create a custom design based on our unique marketing needs as a military junior college. With improved video and photo capabilities and mobile-optimization, the resulting website has wowed both alumni and prospective students alike. We are pleased with the transition that brought our older website up to par with universities and colleges nationwide. Editing in the new-and-improved content management system is also a bonus for our staff."

About Marion Military Institute
Marion Military Institute (MMI), located in Marion Alabama, is the nation's oldest military junior college. With its origin dating back to 1842, the Institute has achieved a national reputation for developing young men and women into successful and prominent leaders in the military, in business and in government. MMI is one of only five Military Junior Colleges in the United States that educates and trains the Corps of Cadets in order that each graduate is prepared for success at four-year institutions, including the service academies, with emphasis on providing intellectual, moral-ethical, physical-athletic, and leadership development experiences in a military environment.

About Third Wave Digital
Third Wave Digital is a comprehensive web design firm specializing in online communications solutions for higher education institutions. We provide innovative website design & development, content management system development & support and complete web hosting services customized to fit your college or university's website redesign goals.
Third Wave Digital is headquartered in Macon, Georgia with satellite offices in Atlanta, Georgia and Orlando, Florida. For more information about Third Wave, call 888-578-7865, click www.twdcampustours.com , www.twd3.com, or e-mail info@twd3.com to find out how our services can increase your college or university enrollment and engage students.

---
---