Third Wave Digital Announces the Launch of Latest EDU Website for Trenholm State Technical College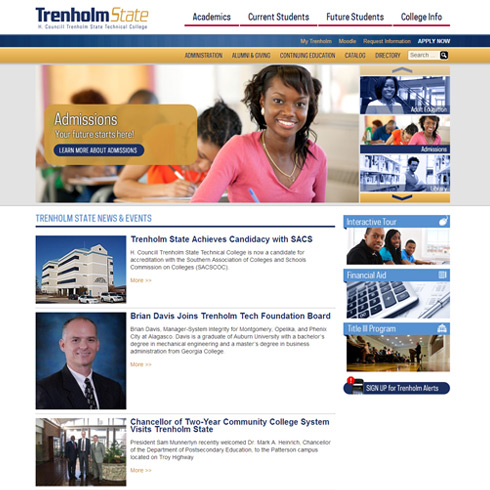 Montgomery, Alabama -- Trenholm State Technical College came to the award-winning higher education web design firm, Third Wave Digital, seeking a complete website overhaul. In a collaborative effort, Third Wave Digital worked closely with administrators from Trenholm to develop a new web presence to serve the needs of prospective and current students as well as faculty and staff. Third Wave Digital services included an analysis and overhaul of the website's content and navigation, a new contemporary design and page layout, as well as advanced coding and development.

Third Wave Digital provided Trenholm State Technical College with a custom designed EDU website that is dynamic and easy to navigate, giving the best possible online experience to current and prospective student, www.trenholmstate.edu. The college website features custom plug-ins such as the news and press tool and a photo gallery. The innovative news and press manager gives Trenholm State's site administrators the capability to upload any photo in conjunction with their latest news article, adding an extra level of detail and interest to the site's home page news feed.

In addition to a custom college website design, Third Wave Digital implemented a complete back-end solution with a comprehensive a full featured Content Management System. This system gives Trenholm State Technical College site administrators access to a robust set of tools that allow them to make content updates, mange site pages and navigation, assign and monitor users, and much more. The Third Wave Digital TWD.CMS is unique in that it allows the user to see the changes they are making before pushing them live to the site, allowing edits to be made in real time without exposing them to the public. Another unique feature of the TWD.CMS is that the user can view the changes they are trying to make as if they were looking at the site itself, without having to go in to a complicated, back end system.
"It was a pleasure to work with the Third Wave Digital team. They were professional, knowledgeable, courteous and flexible. The Content Management System was easy to learn and maneuver. We've received numerous positive complements on our new website design," said Michelle Simmons, Trenholm State Technical College's Web Developer.
Third Wave prides itself on being able to meet most any hosting needs, and in the case of Trenholm State Technical College that required deploying TWD's CMS along with the website elements onto the client's web hosting environment. Working closely with TWD's technical staff, Trenholm's IT team was able to successfully configure and launch the new website on their campus web server. From remote third party hosted solutions to custom configured client web servers, Third Wave has a solution for any hosting and support scenario.
About Trenholm State
H. Councill Trenholm State Technical College is an associate degree-granting institution with the mission to provide accessible educational opportunities, including credit and non-credit courses and certificates, for career preparation, advancement, and life-long learning as well as to promote economic growth and enhance the quality of life for residents of Central Alabama. The college is a member of the Alabama Community College System.
About Third Wave Digital
Third Wave Digital is a comprehensive web design firm specializing in online communications solutions for higher education institutions. We provide innovative website design & development, content management system development & support and complete web hosting services customized to fit your college or university's website redesign goals.
Third Wave Digital is headquartered in Macon, Georgia with satellite offices in Atlanta, Georgia and Orlando, Florida. For more information about Third Wave, call 888-578-7865, click www.twdcampustours.com , www.twd3.com, or e-mail info@twd3.com to find out how our services can increase your college or university enrollment and engage students.
The materials found in this digital press collection are copyright owned, held, or licensed by the Colbarton Corporation and are available for personal, non-commercial, and educational use, provided that ownership of the materials is properly cited. Any commercial use of the materials without the written permission of Colbarton Corporation is strictly prohibited. For permission to use specific materials, please contact info@thirdwavedigital.com
Copyright© 2013 Third Wave Digital
---
---