Third Wave Digital Announces Launch of South Georgia State University Website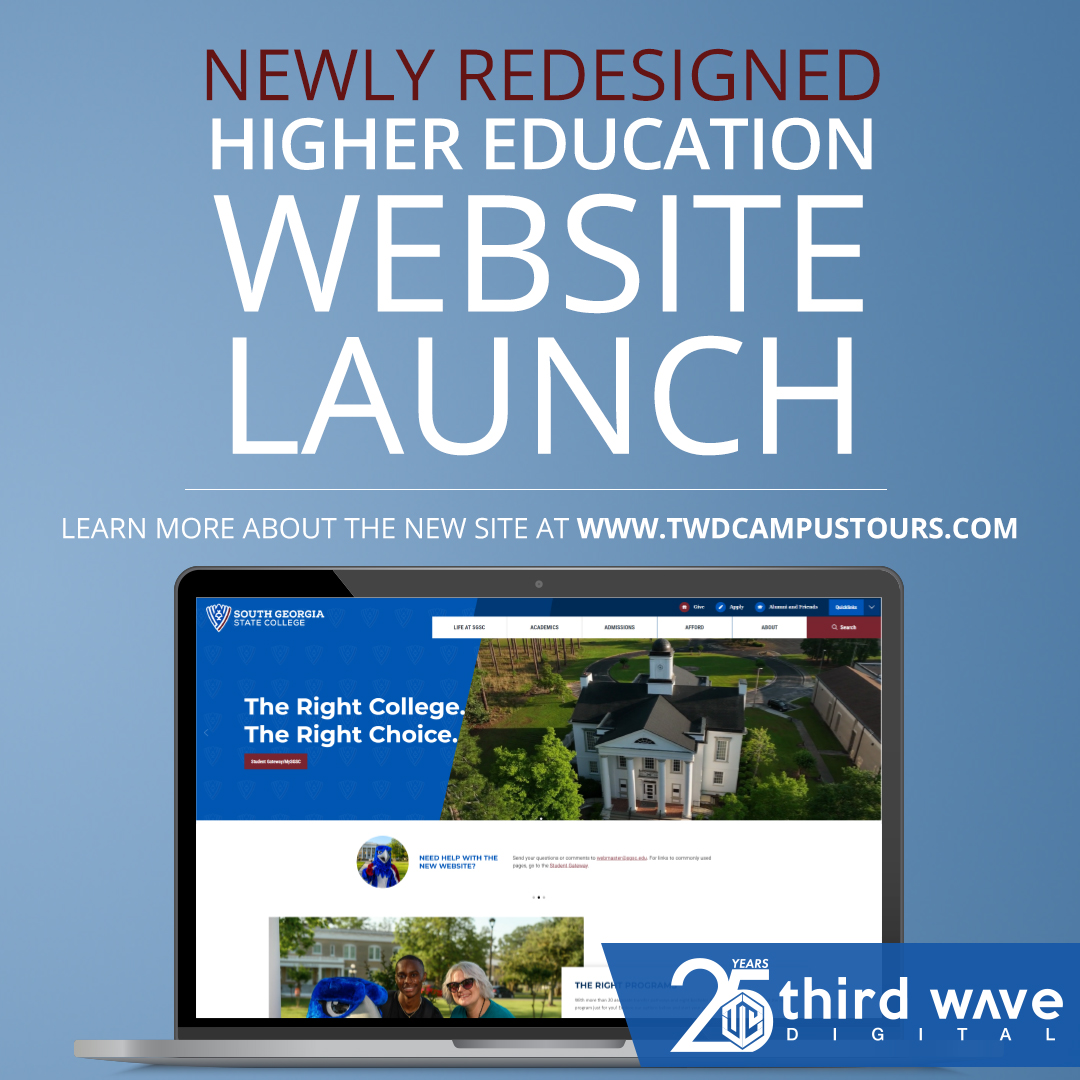 MACON, GA, July 20, 2022- Third Wave Digital announces the launch of the newly redesigned South Georgia State College website. South Georgia State College partnered with Third Wave Digital to redesign, develop and host its website. The goal of the new sgsc.edu was to create a modern yet sleek design, to serve the needs of both current and prospective students. The new website features not only an improved visitor experience but also gives the South Georgia State College site administrators access to tools that allow for easier content updates and ample site management made possible by Third Wave Digital's powerful content management system, TWD.CMS7.
TWD.CMS7 is a robust content management system that delivers tools to better manage and grow websites. Working with Third Wave Digital also provides unparalleled access to custom services by working directly with a team of experts including developers to address the unique needs of any website.
"The process of a website redesign can be a daunting task, but Third Wave Digital provided an easy-to-manage game plan from the initial meeting to the launch of the new site by providing technical knowledge, design creativity, and excellent customer service," said Amy Hancock, Assistant Director of Marketing and Communications at South Georgia State College.
"We had high expectations for the visual look and functionality of the new website, and Third Wave Digital met and exceeded our expectations. It has given us what we wanted on the content management side for an improved behind-the-scenes experience and provided us with a robust, visually impactful, and easy-to-navigate site. The entire Third Wave Digital team has been extremely responsive and intuitive to our needs and their level of professionalism is top-notch. We are very pleased we chose Third Wave Digital as our website development partners."
About South Georgia State University
South Georgia State College is a state college of the University System of Georgia, that offers high-quality associate and select baccalaureate degree programs. From the consolidation of South Georgia College, SGSC is a multi-campus institution located within the cities of Douglas, Waycross, and Valdosta, Georgia that provides innovative teaching and learning experiences, various student activities and athletic programs, and residential options that promote a diverse and supportive learning environment.
About Third Wave Digital
For 25 years Third Wave Digital has been in the business of providing communication excellence to our clients through digital and traditional marketing & advertising services. Third Wave Digital is headquartered in Macon, Georgia and serves clients across the United States. Third Wave Digital offers a comprehensive array of services from website development, hosting and technical support to digital marketing and traditional advertising agency services. Specialty services include complete video production and post-production editing facilities, licensed drone operators and 2D-3D animation capabilities. For more information, contact Third Wave Digital at 1-888-578-7865 or at www.thirdwavedigital.com.
---
Tags:
South Georgia State University website redesign
Third Wave Digital web design
Third Wave Digital
---