Third Wave Digital Announces Launch of Responsive Higher Education Website for CDA Technical Institute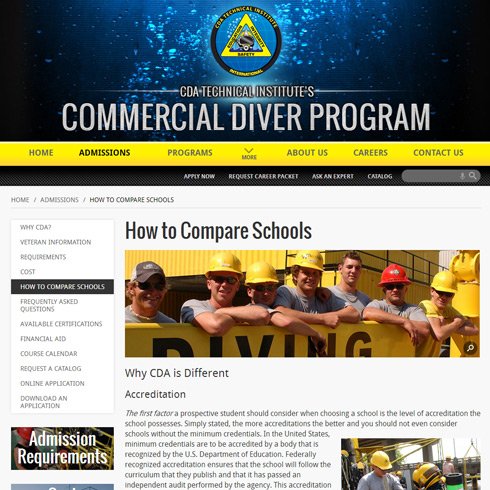 Jacksonville, Florida - CDA Technical Institute (CDA), formerly Commercial Diving Academy, once again turned to award-winning higher education website design firm, Third Wave Digital, seeking a comprehensive redesign utilizing the most advanced innovations in college website design. Recognizing that more and more students are accessing websites from their phones and tablets, Third Wave designed and developed a responsive website that provides CDA's current and prospective students with a seamless user experience across the widest variety of platforms.
Now, www.commercialdivingacademy.com/ can be easily viewed and accessed from any device.

Visitors to the new responsive CDA website are immediately immersed into the world of commercial diving through an interactive graphic novel presentation that allows prospective students to follow the story of young man or woman through the admissions process, training, and graduation from CDA as a certified commercial diver. The innovative design of the graphic novel presentation enhances the overall visual impact of the website and immerses visitors into the website experience. Allen Garber, Chief Administrative Officer at CDA cited the graphic novel as one of many reasons CDA chose Third Wave Digital to overhaul its online web presence. "CDA provides a unique training experience like no other institution. Our website needs to reflect that uniqueness," said Garber. "We turned to Third Wave Digital because they have repeatedly demonstrated the ability to create innovative, engaging and interactive designs that reflect our specialized offerings."

For potential students to have a positive experience on a college website, ease of navigation is essential. The CDA responsive website provides the flexibility that is necessary for reaching students no matter what platform they are using with standard navigation tools for desktop computers and advanced, "off canvas" navigation when viewed on a smartphone. Also, with today's student in mind, TWD implemented a comprehensive overhaul of CDA's online application form. This user friendly form allows applicants to create a personal account and complete the form at their own pace.
In addition to a custom college website design, Third Wave Digital provides a complete content management solution with an easy to use, full featured CMS. This system gives CDA site administrators access to a robust set of tools that allow them to make content updates, manage site pages and navigation, assign and monitor users, and much more. Third Wave will also continue to provide CDA with powerful hosting and support after the launch to meet any needs of the new college website. This comprehensive range of services reflects the strength of Third Wave Digital's capabilities, says Creative Director, Myron Bennett. "We provide a single location for higher education institutions to turn to for creative design, advanced web development, complete content management and reliable, enterprise-class hosting," said Bennett. "We consider ourselves fortunate to have clients like CDA that give us the opportunity and encouragement to push the creative and technological envelope of what is possible."
About CDA Technical Institute
CDA Technical Institute (CDA), formerly Commercial Diving Academy, is located in Jacksonville Florida and the only accredited commercial diving school in the Southeast.CDA offers the most comprehensive and rigorous program (20 weeks) of all the other accredited commercial diver training schools. CDA also offers more internationally recognized certifications than any other training program.CDA is accredited by the Accrediting Council for Continuing Education and Training (ACCET), which is listed by the US Department of Education as a nationally recognized accrediting agency. CDA is licensed to operate as a private school and is licensed by the Commission for Independent Education, Florida Department of Education.
About Third Wave Digital
Third Wave Digital is a comprehensive web design firm specializing in online communications solutions for higher education institutions. We provide innovative website design & development, content management system development & support and complete web hosting services customized to fit your college or university's website redesign goals.
Third Wave Digital is headquartered in Macon, Georgia with satellite offices in Atlanta, Georgia and Orlando, Florida. For more information about Third Wave, call 888-578-7865, click www.twdcampustours.com , www.twd3.com, or e-mail info@twd3.com to find out how our services can increase your college or university enrollment and engage students.
---
---