Third Wave Digital Announces Latest Interactive Exhibit for the United States Army
Today, Third Wave Digital (TWD) announces their latest interactive exhibit, custom designed and created for the United States Third Army. This trade-show exhibit is an engaging and interactive experience that features multiple presentations.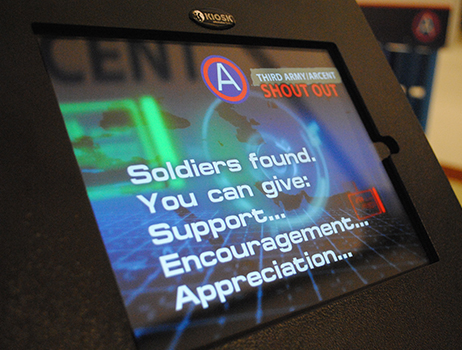 Visitors to the exhibit can send words of encouragement to Third Army personnel stationed overseas using the "Shout Out" iPad app which allows them to record a brief video message and then preview the message before deciding to save or re-record.

Military history buffs will enjoy the interactive Third Army timeline. In this presentation, Third Army's 100-year history is broken down into major eras and presented through a collection of over 50 historical photos and 13 minutes of video.

Viewers of the interactive timeline presentation will be well prepared for the next exhibit, a challenging trivia presentation. This game uses a fast paced question and answer format, suspenseful music and touch screen technology to engage visitors and further immerse them in the Third Army brand and history.

For younger visitors, two hands-on exhibits are also available. Twenty-four large plastic cylinders mounted in a custom-built aluminum frame can be rotated to assemble images of either the Third Army logo or its geographic area of operations. This simple puzzle provides great fun for Third Army's youngest fans.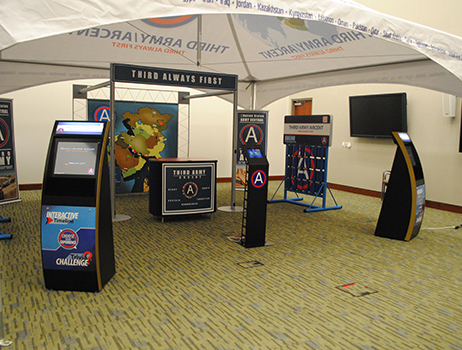 The entire exhibit is enclosed within a rugged 20'x20' tent branded with the Third Army Logo and other custom graphics.

To successfully develop and execute Third Army's exhibit, TWD provided comprehensive project management services with a single PM that worked closely with the client, suppliers and fabricators throughout entire process. The PM ensured that the brand, message, look and feel of all the individual components were consistent throughout the entire exhibit and provided a single point of contact for the client to work with.

TWD also provided 3D modeling of the complete exhibit space including all elements. This 3D model was used by the client to envision the net impact of the entire exhibit and plan the layout of individual components.
TWD travelled to Shaw Air Force Base in Sumter, SC and spent a day on site, installing the entire exhibit and supervising the final handoff of all deliverables to the client.

This trade show exhibit for the Unites State Third Army is just the most recent example of exhibit work that Third Wave Digital has created.

About Third Wave

Third Wave Digital specializes in interactive game development, interactive exhibits and virtual design for museums and visitor centers. Third Wave Digital is a division of Colbarton Corporation which also offers complete website design and development services as well as complete web hosting solutions. Third Wave Digital is headquartered in Macon, Georgia with satellite offices in Atlanta, Georgia and Orlando, Florida. For more information about Third Wave Digital, call 888-578-7865, click www.thirdwavedigital.com or email info@thirdwavdigital.com.

The materials found in this digital press collection are copyright owned, held, or licensed by the Colbarton Corporation and are available for personal, non-commercial, and educational use, provided that ownership of the materials is properly cited. Any commercial use of the materials without the written permission of Colbarton Corporation is strictly prohibited. For permission to use specific materials, please contact info@thirdwavedigital.com.

Copyright© 2013 Third Wave Digital


---
---