Third Wave Digital Announces Latest Interactive Energy Encounter Exhibits for Florida Power and Light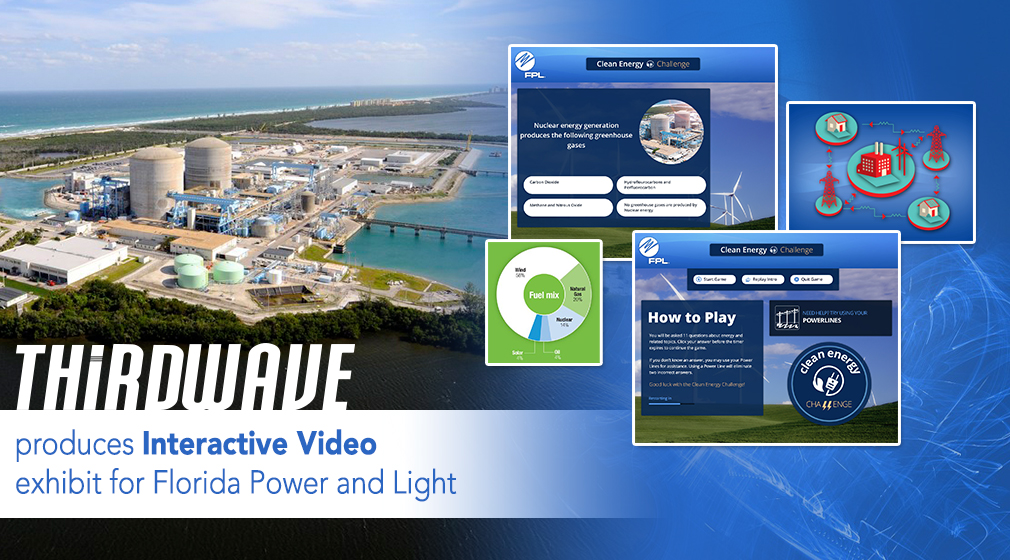 Third Wave Digital (TWD) announces their latest interactive nuclear energy related exhibit, custom designed and created for Florida Power and Light's Energy Encounter visitor's center. TWD has been providing entertaining and informative exhibits for the nuclear energy industry since 1999 and has created numerous presentations for FPL's Energy Encounter experience. The newest exhibit is titled, "Clean Energy for a Healthy Planet" and offers visitors an in-depth review of nuclear energy's role in reducing harmful emissions into our atmosphere.
"Clean Energy for a Healthy Planet" exhibit features an impressive large screen viewing platform, inset to a customized physical display area complimenting the presentation's main theme. Adding a second dimension to the exhibit experience, there are several smaller interactive screens displaying a vast amount of technical information related to the topic of clean energy and the metric behind the generation of nuclear power. The goal is to educate visitors on FPL's strong beliefs that Nuclear Energy plays an essential role in the development of clean energy and how those clean energy sources help make our planet healthier.
The FPL and its parent company Next Era Energy, take pride in the fact the Energy Encounter is considered to be one of the most informative and educational nuclear plant visitor centers in the United States. Visitors to the facility encounter interactive displays to learn more about radiation, containment, and how nuclear plants are designed with in depth safety features. For the past 18 years, Third Wave Digital has been called upon by FPL to create, maintain and upgrade a wide array of exhibit presentations; allowing visitors to explore a model containment structure, learn about the different waste storage measures, watch a fiber optic light show on how electricity reaches their home, just before they test their knowledge with fast-paced computer quiz games.
Third Wave Digital's creation of "Clean Energy for a Healthy Planet" utilizes the next generation in motion graphics and immersive GUI's. Third Wave Digital's interactive design concept offers a hands-on learning center dedicated to teaching the community about safe, reliable, clean nuclear energy allowing guests to explore, learn, and experience the Energy Encounter at any pace and be inspired to learn through exploration.
The Energy Encounter is located adjacent to the St. Lucie Nuclear Power Plant on South Hutchinson Island between Ft. Pierce and Stuart.
6501 South Ocean Drive
Highway A1A, Gate B
Jensen Beach, FL 34957
(772) 468-4111
ENERGY-ENCOUNTER@fpl.com
The Energy Encounter is open to the public:
Tuesdays & Thursdays (Phone ahead to confirm staff availability)
11 a.m. - 3 p.m.
This interactive exhibit for Florida Power and Light is just one most recent example of exhibit work that Third Wave Digital has created. To see a full portfolio of examples please visit http://thirdwavedigital.com/portfolio/interactive-exhibits.aspx .
About Third Wave
Third Wave Digital specializes in complete interactive exhibit design, development and display concepts for museums and visitor centers. Third Wave Digital is a division of Colbarton Corporation which also offers comprehensive website design and development services as well as complete web hosting solutions. Third Wave Digital is headquartered in Macon, Georgia with satellite offices in Atlanta, Georgia and Orlando, Florida. For more information about Third Wave Digital, call 888-578-7865, click www.thirdwavedigital.com or email info@thirdwavdigital.com.
The materials found in this digital press collection are copyright owned, held, or licensed by the Colbarton Corporation and are available for personal, non-commercial, and educational use, provided that ownership of the materials is properly cited. Any commercial use of the materials without the written permission of Colbarton Corporation is strictly prohibited. For permission to use specific materials, please contact info@thirdwavedigital.com.
---
---