Third Wave Digital Announced new Responsive Design services for Higher Education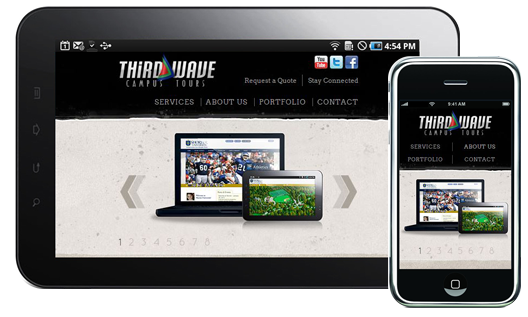 Third Wave Digital announces the launch of their solution to the need to provide complete "responsive design" products to the Higher Education industry. The website http://twdcampustours.com now features a comprehensive design & coding package to make it truly responsive to the top devices commonly used by today's college bound students.
With more and more students accessing websites from their phones, designing a website to serve all platforms has become a tremendous feat. While the current practice of developing a mobile friendly companion website is an effective means to handle cross platform needs, mobile sites pare down the experience from the desktop leaving some consumers wanting more.
Third Wave Digital has relentless been pursuing a solution to fully responsive design for higher education clients to keep up with the demands of reaching their target audience. TWD's responsive web design services provide cross browser and multiple device compatibility that is rapidly becoming the industry standard. While more time consuming to design and code, a responsive website provides the flexibility that is essential for reaching today's students no matter what platform they are using to access online information.
Third Wave Digital always strives to be riding the latest wave in web innovation and with the launch of http://twdcampustours.com they have demonstrated the ability to provide higher education institutions across a completely responsive solution. Within this new website notice how every picture, slideshow and video was specially designed & coded to expand and contract according to your browser size. The site contains a robust portfolio of work that adjusts from its largest size at a 3 x 5 grid (great for the desktop) and collapses down to single column perfect for smartphones at its smallest display size.
Third Wave Digital's President Bart Campione had this to say about the new website "Responsive web design is another beast entirely from the traditional practices that have been the norm, but as web design experts with over 20 years of experience TWD knows that the ever-changing nature of the web is one of the only constants that can be counted on. We are now ready to meet that challenge".
Third Wave Digital Wave's Senior Web Developer, Bo Griffin, was excited to take on the challenge of Responsive Design, "One of the cool features about this particular project is the use of CSS3 transitions to animate the design breakpoints."
Are you ready to go Responsive? Contact Third Wave Digital today and we will be happy to walk you through the requirements for taking your presence into the realm of responsive web design.
About Third Wave Digital
Third Wave Digital is a comprehensive web design, development and support firm specializing in complex web presence creation for small to mid-sized businesses and higher education institutions. Third Wave Digital is a division of Colbarton Corporation which offers full service advertising agency services and complete web hosting solutions. Third Wave Digital is headquartered in Macon, Georgia with satellite offices in Atlanta, Georgia and Orland, Florida. For more information about Third Wave Digital, call 888-578-7865, click http://www.twd3.com/ or email info@thirdwavdigital.com.
The materials found in this digital press collection are copyright owned, held, or licensed by the Colbarton Corporation and are available for personal, non-commercial, and educational use, provided that ownership of the materials is properly cited. Any commercial use of the materials without the written permission of Colbarton Corporation is strictly prohibited. For permission to use specific materials, please contact info@thirdwavedigital.com
Copyright© 2013 Third Wave Digital
---
---