Third Wave Advertising receives Best of Show ADDY® Award for Gadsden State Community College Website
The team at Third Wave Advertising has once again been recognized for their cutting-edge Website development and today announces the honor of being named Best of Show Electronic by the American Advertising Federation's (AAF) Central Georgia chapter as part of the 2011 ADDY® Awards held Tuesday, February 8th in Macon, Georgia.

The award was presented to Third Wave Advertising for the design and development of Alabama's Gadsden State Community College website, http://gadsdenstate.edu.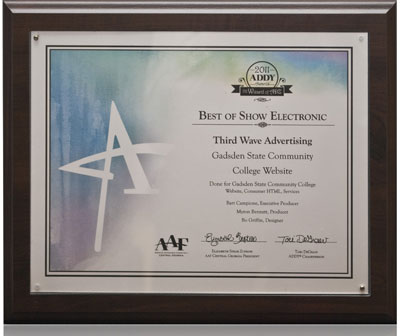 The website, which was designed around the current marketing theme of "choose your direction at Gadsden State," instantly puts visitors in the driver's seat with an intuitive, easily accessible online experience featuring multimedia navigation, embedded video presentations, and robust photo galleries targeted to today's Web savvy users.

To showcase the Gadsden experience, Third Wave Advertising also created a series of interactive video tours featuring Gadsden State's very own talented students acting as tour guides. Users are taken through various aspects of Gadsden State with the option to "keep driving" or receive more information at any time.

Third Wave Advertising also created interactive "Fast Facts" that can be found throughout the new website, an in-depth view of life at Gadsden State with photo gallery slideshows and a custom Challenge Game that lets users test their knowledge of all things Gadsden State.

In addition to being named Best of Show in the Electronic category, Third Wave Advertising was also honored with a Gold ADDY® Award for http://gadsdenstate.edu. Other wins for the creative team at Third Wave Advertising included a Gold ADDY® Award for "My Sheetz Card" – an interactive banner campaign for Pennsylvania-based Sheetz convenience stores, and Silver ADDY® Awards in both the "Elements of Advertising" and "Local TV Commercial" categories.

According to Third Wave Advertising's President Bart Campione, the recent awards are just another example of what happens when passion and creativity converge.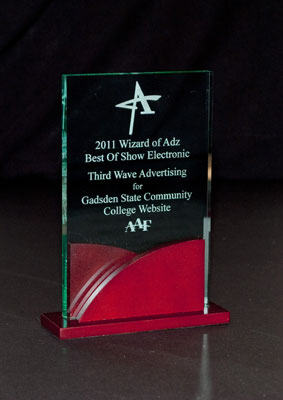 "Our team is passionate about creating top-of the line Web applications for our customers. In addition to being at the forefront of changing Web technology, we also excel at capturing the unique needs of each client…and we love it! To receive an award as prestigious as the Best of Show Electronic is an honor for our entire organization," Campione said.

About the Competition
Judging for this year's ADDY® Awards took place over one weekend in mid-January and winners are kept under wraps until the show in February. To maintain the integrity of the competition, judges were brought in from outside of the Macon market.

Each year, in communities all over the country, chapters of the American Advertising Federation collects creative for inclusion in the ADDY® Awards. With multiple opportunities for recognition, Gold ADDY® Award winners from each local level are then submitted for district judging - with Gold winners there moving on to compete for the highly coveted National Gold ADDY® Award.

About Third Wave Digital
Third Wave Digital is a comprehensive Web design, development and support company specializing in complex web presence creation for small to mid-sized businesses. Third Wave Digital is a division of Colbarton Corporation which offers full service advertising agency services though Third Wave Advertising and complete web hosting solutions through Third Wave Host. Third Wave Digital is headquartered in Macon, Georgia with satellite offices in Atlanta, Georgia and Orlando, Florida. For more information about Third Wave, call 888-578-7865, click www.twd3.com or e-mail info@thirdwavedigital.com.

---
---