TWD designs 3rd Iteration of Tri-County EMC website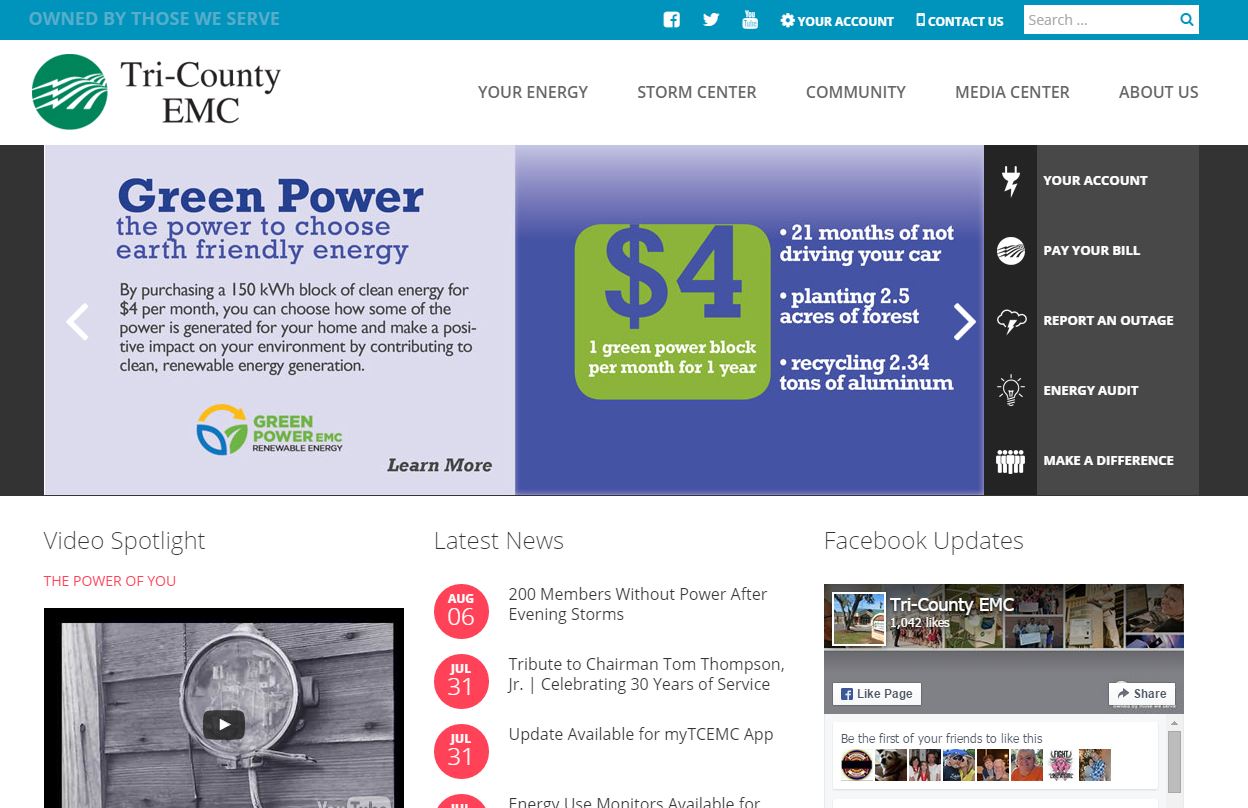 The site is the 3rd iteration designed by Third Wave Digital. As an EMC, Tri-County has a promise of convenience to their customers to uphold. This promise extends from providing power and education to guaranteeing ease of use of the website. Third Wave Digital was more than happy to shed new light on their previous website and help usher them into a brighter future with a responsive design.
The new design developed by Third Wave began with an update on the existing color palette. The site uses a bright blue, coral and white along with the classic green. These colors were chosen to set Tri-County apart and to convey brightness and accessibility to their customers.
It was important to showcase certain types of information on the homepage, links to the popular services like paying your bill, reporting an outage or getting an energy audit. The remaining space is allotted to the news, videos and a slideshow encouraging you to explore deeper into the site. The responsive design ensures that whether the site is viewed on a phone, tablet or desktop the experience always stays the same for users.
Another important feature of the website is the new Storm Center, this page is the only stop you need to make for updates during a storm. You can see the current outage map, report outage and access information frequently needed during bad weather.
Tri-county EMC launched their newsletter "Current Lines" in 1941 has been looked to since then for electricity related news. For this reason The Media Center on the website needed to be especially robust, this center designed especially for Tri-County EMC has handy tabs to access the newsletter, news updates and social media.
The Tri-County EMC staff was already well versed in the TWD.CMS, but was excited to jump into the most recent version. Their 6.0 features included the rotator tool, news and press, custom page templates, the form builder and much more. With all these tools they are able to manage the website at light speed!

About Tri-County EMC
Tri-County EMC is headquartered in Gray, Georgia. The cooperative has payment and customer service offices in Gray and Eatonton and six additional payment locations throughout the service territory as listed below. Tri-County operates a twenty-four hour Control Center in Gray and operations centers and warehouse facilities in Gray and Eatonton.

About Third Wave Digital
Third Wave Digital is a comprehensive media design company specializing in a wide array of digital media competencies including digital video production, responsive website design & development, content management system development & support and complete web hosting services. Third Wave Digital clientele represents a diverse cross section of mid to large sized businesses seeking award winning creative services in the areas of web design and digital media. Third Wave Digital is headquartered in Macon, Georgia with satellite offices in Atlanta, Georgia and Orlando, Florida. For more information about Third Wave, call 888-578-7865, click www.twd3.com or e-mail info@thirdwavedigital.com.
---
---