TWD Wins Gold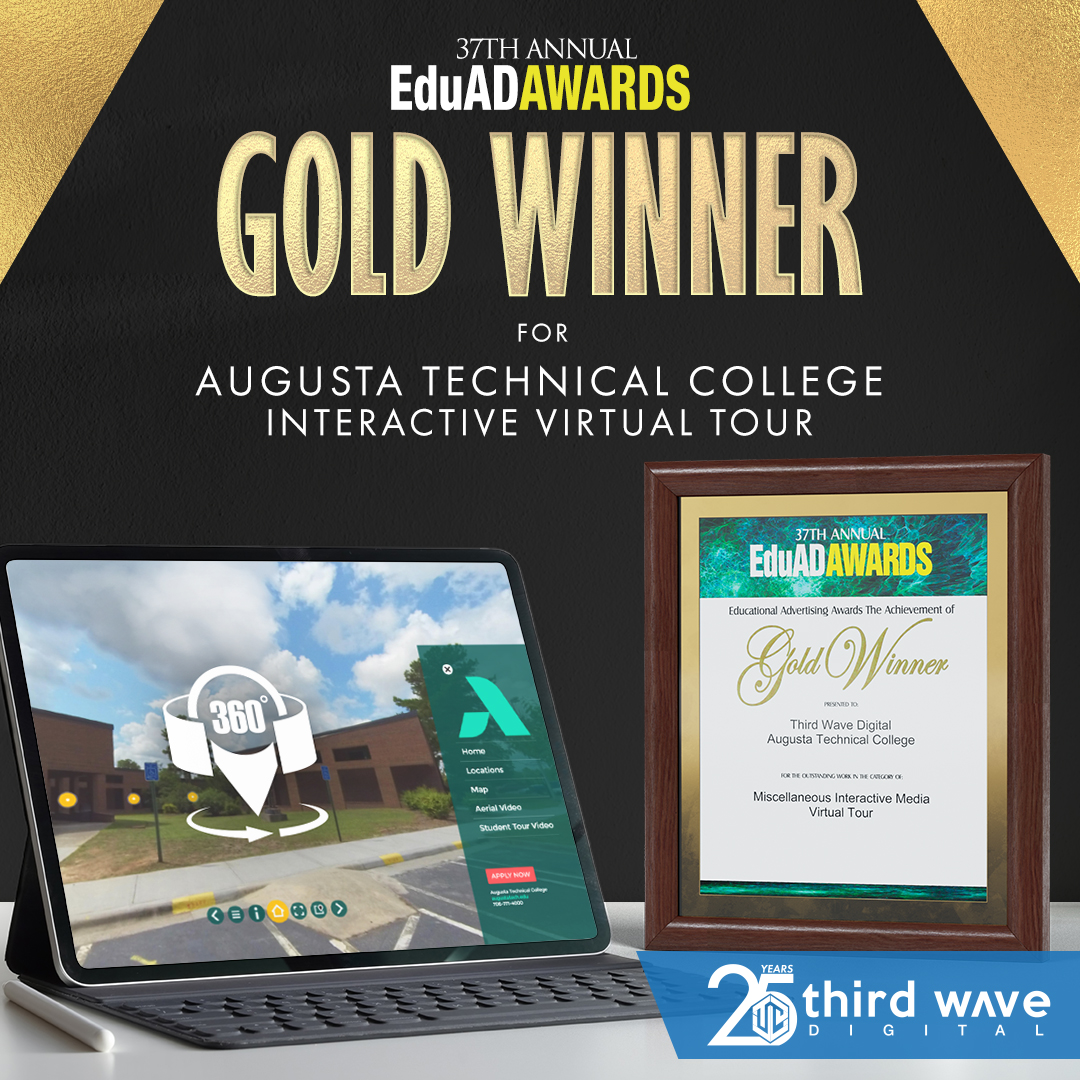 Third Wave Digital has been awarded gold for the 37th Annual Educational Advertising Awards in Miscellaneous Interactive Media for our virtual tour of Augusta Technical College. The Education Advertising Awards is a national competition that recognizes educational marketing and adverting achievements. This year, there were 54 categories to be judged, in which entrants were awarded Gold, Silver, Bronze, and Merit designations for programs and materials that displayed exceptional quality, creativity, and message effectiveness.
Augusta Technical College is a two-year institution of higher education, that offers programs and industry training for adults in the Augusta, Georgia area. Third Wave Digital partnered with Augusta Technical College to create an Interactive Virtual Campus Tour to market their campus to prospective students. Our production team used specialized 360 cameras to capture the highlighted locations on the main campus, such as residence halls and academic buildings, that also featured student life and drone footage of the main campus and portions of their satellite campuses. Our tour also includes informational tags and photo galleries throughout the virtual campus tour, allowing users to gain more information about featured locations.
Augusta Technical College Vice President of Student Affairs, Dr. Nichole Spencer stated, "Working with Third Wave Digital for our institution's virtual tour was a very seamless, collaborative, and exciting experience. They were with us every step of the way to ensure that what we needed to get across to prospective students and the public was done in the most creative and energizing manner." Third Wave Digital is excited to have our work acknowledged by Educational Advertising Awards and we thank Augusta Technical College and look forward to continuing our partnership.
---
Tags:
education virtual tour award winner
EduADAWARDS
Augusta
Education
Third Wave Digital virtual tour
Augusta technical college
Augusta tech
Third Wave Digital
---