River Edge Behavioral Health Center launches new website, serves community, employees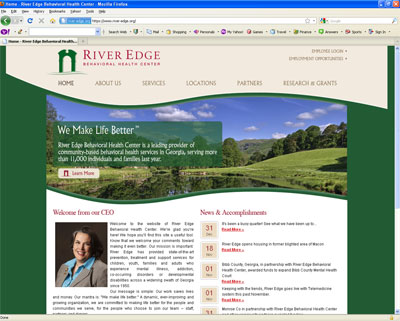 River Edge Behavioral Health Center (REBHC), a leader among mental health service and support providers in Central Georgia, today announces a new tool to aide in its mission of "making life better" with the launch of the newly redesigned www.river-edge.org.

The new website will serve the Central Georgia community by offering a centralized location for news, programs, services and resources geared towards assisting those individuals who have been affected by mental illness, developmental disorders or substance abuse.

Community members and partners can now look to www.river-edge.org for the latest information about treatment options, a full list of the facilities available in the region, up-to-date news articles and information about the important research conducted by REBHC.

The real beauty of this redesigned website however, is the robust backend that powers it, a key need for the comprehensive center that serves close to 15,000 families annually. Through a proprietary content management system, REBHC administrators can update any information -in real time - with just a few clicks.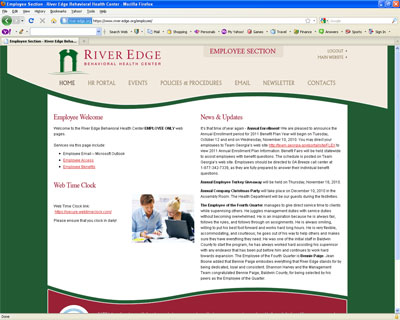 Additionally, www.river-edge.org offers REBHC administrators a way to stay connected with their employees and reduce printed materials through a secure employee only section. The REBHC Employee Only micro-site connects employees to important emails, updates and event information as well as an HR Portal subsection that allows employees to gain access to leave balances, W2 forms and time clocks all while going paperless.

Developed by Macon, Georgia-based Third Wave Advertising a full service website development firm known for award-winning designs and custom backend solutions, the new www.river-edge.org serves as a shining example of the new age of website engineering.

"The team at River Edge Behavioral Health Center needed to redesign their website. But more than that, they needed an engine that could help them engage their community and better connect to their employees. The REBHC mission is to offer services to make life better and with the custom backend infrastructure we built into www.river-edge.org, we've offered them a new way to do that for their employees and community partners," said Bart Campione, president of Third Wave Advertising.

About REBHC
As one of the leading providers of community-based behavioral health services in Georgia, River Edge Behavioral Health Center serves close to 15,000 individuals and families each year. River Edge Behavioral Health Center has provided comprehensive mental health, addictive disease, and developmental disabilities services for the past 60 years to the counties of Central Georgia.

Through its multiple locations, River Edge annually provides services to child, adolescent and adult residents of Bibb, Baldwin, Jones, Monroe, Putnam, Twiggs, Wilkinson and surrounding counties. River Edge has special expertise serving people who have intensive support needs.

About Third Wave Digital
Third Wave Digital is a comprehensive web design, development and support company specializing in complex websites for small to mid-sized businesses. Third Wave Digital is a division of Colbarton Corporation which offers full service advertising agency services though Third Wave Advertising and complete web hosting solutions through Third Wave Host. Third Wave Digital is headquartered in Macon, Georgia with satellite offices in Atlanta, Georgia and Orlando, Florida. For more information about Third Wave, call 888-578-7865, click www.twd3.com or e-mail info@thirdwavedigital.com.


---
---