New Stripes® Convenience Store Website Ready for What's Ahead!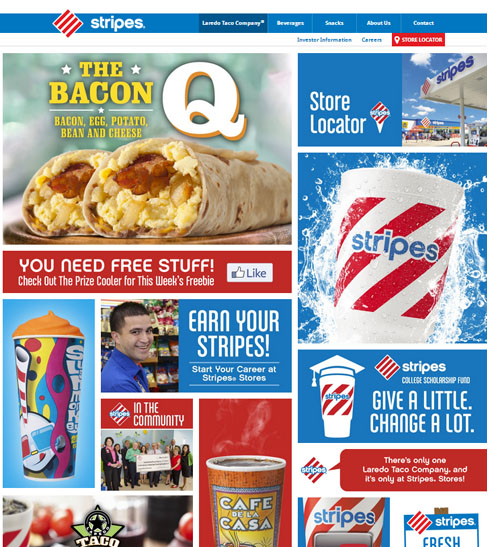 Macon, Georiga
The dynamic and exciting Stripes® Convenience Stores entrusted Third Wave Digital with the development of an advanced web presence to reflect their brand pillars and act as a unifying online entry point for all of the over 500 store locations. Third Wave custom designed and developed a highly interactive, visually vibrant and mobile responsive website that grabs its 18-34 target audience and beautifully displays the offerings of this multifaceted brand. The StripesStores.com backend architecture has been intelligently created to be easily managed by the Stripes® staff using the TWD.CMS Content Management System. Tasty treats like social media share features and a robust store locator have also been wrapped into the visually appetizing and easy to digest StripesStores.com home page experience.
Stripes® Convenience Stores is a powerhouse in the C-store and C-Store Restaurant industry with over 500 stores. Its food counterpart Laredo Taco Company® provides mouth-watering Mexican food fare for over 400 locations.
The website homepage is a refreshing visual collaboration with multiple choices on how to interact with the site, from the store locator and detailed food menu to special offers and social media engagement. It was paramount that the website reflects the ease of the C-Store experience by presenting multiple easy to grab options without overly complicating the process. Being aware that Stripes® is not just another Convenience Store, Third Wave put the unique audience offerings right at the forefront of the online experience. Users are immediately presented with custom photography of the mouthwatering Laredo Taco Company® food products along with thirst quenching fountain drink options, and it is all supported by brand reinforcing graphics and messaging.
Third Wave Digital took special care to provide Stripes® Convenience Stores with a custom responsive website that would work just as hard behind the scenes. TWD.CMS has a wide array of website management tools to allow for the seamless manipulation of all the website features including managing pages, slideshows, menu items and news updates. The homepage imagery and links can be swapped and updated quickly by the web administrator without touching a single line of code to ensure that the homepage experience never gets stale. Third Wave also provides website hosting and on-going support for this cutting-edge site.
"The complete redesign of stripesstore.com was the most ambitious and comprehensive website design and development project ever undertaken by Third Wave Digital" said Third Wave Digital President, Bart Campione. "Being selected to take the Stripes store brand online was an honor we did not take lightly. We put every ounce of skill, expertise and creativity we had to offer into making this a positively awesome experience for the client".
About Third Wave Digital
Third Wave Digital is a comprehensive media design company specializing in a wide array of digital media competencies including digital video production, responsive website design & development, content management system development & support and complete web hosting services. Third Wave Digital clientele represents a diverse cross section of mid to large sized businesses seeking award winning creative services in the areas of web design and digital media. Third Wave Digital is headquartered in Macon, Georgia with satellite offices in Atlanta, Georgia and Orlando, Florida. For more information about Third Wave, call 888-578-7865, click www.twd3.com or send us an email.
---
---