Luther Rice and Columbus Tech College awarded Outstanding Achievement by IMA's.
Two Georgia colleges were presented with the Outstanding Achievement award by the Interactive Media Awards.
Luther Rice College and Seminary and Columbus Technical College received the Outstanding Achievement award bestowed by the Interactive Media Awards. The IMA's recognize outstanding achievements in interactive design and development once a year. This award is a prestigious award to win and represents excellence and great accomplishment.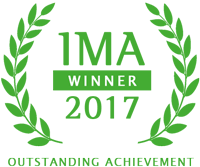 The IMA's are designed to elevate the standards of excellence on the Internet and offer winners a boost in marketing and exposure. To win this award level, sites had to successfully pass through a comprehensive judging process, achieving very high marks in four of the five of the judging criteria - an achievement only a fraction of sites in the IMA competition earn each year. This year's competition was judged on design, content, feature functionality, usability, standards compliance and cross-browser compatibility.
Newly Redesign Luther Rice College & Seminary Website
Third Wave created the newly redesigned www.lutherrice.edu which boasts a responsive design, campus calendar, student profiles, and a news and press plugin. These features are backed by Third Wave's higher education Content Management System, TWD.CMS, and is securely hosted by TWD Host. As a private Christian college and seminar, the staff wanted to ensure that when potential students entered their website they received valuable information about their course offerings, values and mission dedication to education. Working together, Third Wave was able to meet and exceed Luther Rice's expectations.
Redesigned Columbus Technical College Website
As well as Luther Rice's new website, Third Wave Digital reached new heights with Columbus Technical College while redesigning a new responsive website, www.columbustech.edu. This technical college has an annual student enrollment of over 5,000 and services areas including Muscogee, Harris, Talbot, Stewart, Quitman, and Chattachoochee counties. It was imperative that they had a responsive website that reflected the school's goals and recent rebranding. Columbus Technical College now has a fully responsive website with a Faculty and Staff Directory, Calendar and full suite of CMS features. Over 200 pages of content were migrated to the newly designed website.
About Third Wave Digital
Third Wave Digital is a comprehensive web design firm specializing in online communications solutions for higher education institutions. We provide innovative responsive website design & development, content management system development & support and complete web hosting services customized to fit your college or university's website redesign goals.
For 20 years Third Wave Digital has been headquartered in Macon, Georgia and serves clients across the United States. For more information about Third Wave Digital, call 888-578-7865, click www.twdcampustours.com or email info@twd3.com to find out how our services can increase your college or university enrollment and engage students.
---
Tags:
Award winning website design firm
website design
Wed design company
---