Local Art Gallery gives users a peak into their gallery, expands reach of local artwork
For art lovers and collectors in Macon, Georgia, Ocmulgee Arts has long been a favorite local gallery.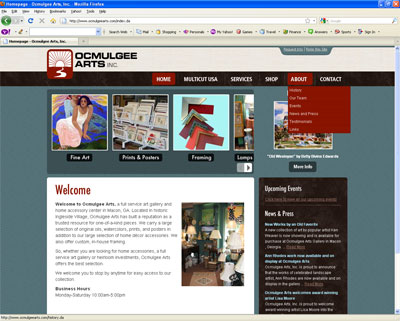 Now, the team at Ocmulgee Arts is expanding the reach of their gallery's original art and accessories collection beyond the city limits of Macon with a new website: http://ocmulgeearts.com/.

The new site, which was launched in mid-March, gives users an exclusive look into the fine art gallery which includes a large selection of prints and posters, custom framing options and home décor items. Best of all, the newly redesign website will make it easier than ever for art lovers to keep up with the latest happenings at the Macon art gallery.

A Macon, Georgia staple since 1973, the Ocmulgee Arts team has seen a slew of changes in the art community over the years. Now, with their new online presence, http://ocmulgeearts.com/ they can stay at the forefront of changing technology and changing art trends. In addition to an online store (launching soon), the newhttp://ocmulgeearts.com/ also comes with a content management system designed to let gallery owners update events and content including text and photos with the click of a button.

Developed by Macon,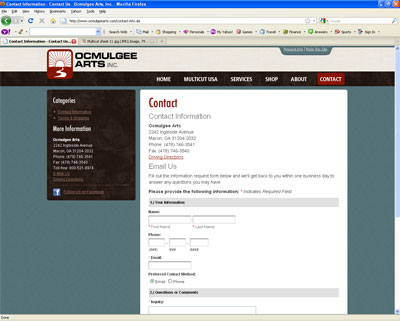 Georgia-based Third Wave Advertising- a full service website development firm known for award-winning designs and custom backend solutions- the new http://ocmulgeearts.com/ serves as a shining example how many local businesses are using the web to stay current and connected. Third Wave has also provided complete hosting and maintenance since the site's launch.

"The new site for Ocmulgee Arts will allow the gallery owners to promote their products and services online like never before," said Carla Schwab, Operations Director of Third Wave Advertising. "Phase two of this project will also take art sales to the digital age with the addition of an online store."

About Ocmulgee Arts
Ocmulgee Arts was founded in 1973 by Louise Hill Burkhalter and Alan J. Burkhalter as a showcase for regional original art. Over the years, Ocmulgee Arts has evolved into a full service art gallery and home accessory center. In addition to a fine selection of original paintings and original prints, the gallery is a major source of prints, posters, lamps, porcelain, and the finest custom picture framing in Georgia. Ocmulgee Arts also features Multicut USA which features a collection of the top quality handmade papers used for framing and book binding. From casual decorating to heirloom investments, Ocmulgee Arts offers the best selections.
MORE
About Third Wave Digital
Third Wave Digital is a comprehensive web design, development and support company specializing in complex websites for small to mid-sized businesses. Third Wave Digital is a division of Colbarton Corporation which offers full service advertising agency services though Third Wave Advertising and complete web hosting solutions through Third Wave Host. Third Wave Digital is headquartered in Macon, Georgia with satellite offices in Atlanta, Georgia and Orlando, Florida. For more information about Third Wave, call 888-578-7865, click www.twd3.com or e-mail info@thirdwavedigital.com.
---
---