It's Good to Be a Bear: Mercer University Admissions unveils a fierce new web presence in BeTheBear.com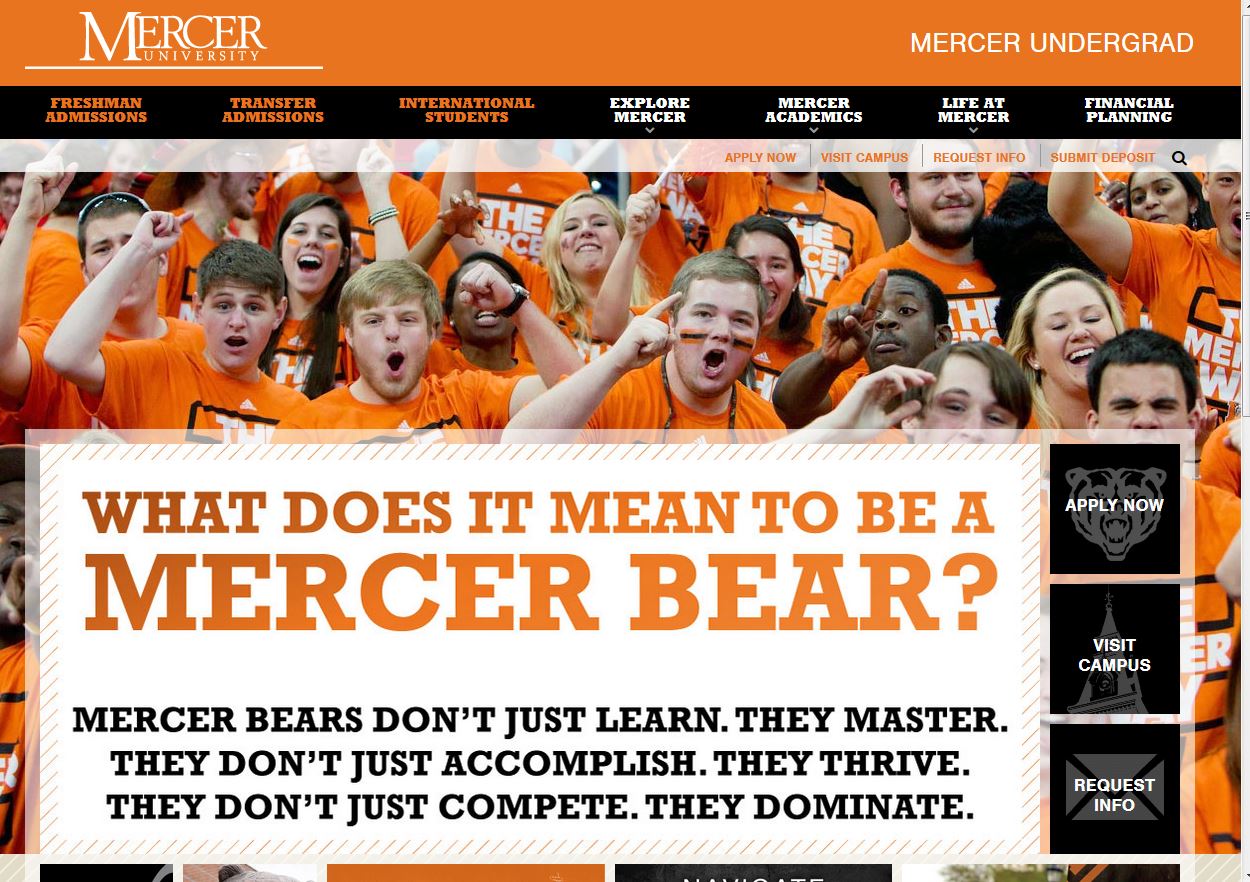 It's Good to Be a Bear: Mercer University Admissions unveils a fierce new web presence in BeTheBear.com

2014 might just be the Year of the Bear. After an outstanding opening season for their football team and a March Madness upset that brought national acclaim, Mercer University has yet another accomplishment to boast: the launch of the third iteration of Mercer University's Admissions Website—the totally revamped and completely responsive BeTheBear.com. This website is the latest in a series of envelope-pushing websites developed by Third Wave Digital for Mercer University. Its most recent predecessor, the award-winning GoMercer.com launched in 2011. As current students graduate and new students apply, the methods for engaging future students has evolved. In recent years mobile usage has sky rocketed: According to a 2014 Noel-Levitz survey 71% of current seniors have used a mobile device to look at a college website. With these statistics in mind, the transition to a responsive web platform is imperative to reach prospective students.
Third Wave Digital answered that call with a fully responsive website for the Mercer University Office of Admissions. The new website features immersive custom designs on every page that boldly conveys what it means to "Be the Bear." It was important to make sure that this branding message didn't get lost in the switch to mobile and the Third Wave team worked closely with Mercer to develop an information architecture that translated successfully from desktop to tablet to mobile and back again. Mercer Bears never settle for second best and great care was taken to ensure that the site looks and performs expertly on every device and platform.
The attention grabbing homepage is designed with the needs of future students in mind, while also conveying the fierce spirit of the Mercer Bears. All of the topics that prospective students are looking for are featured prominently on the homepage with a tiled interface that is optimized with mobile usage in mind. The tiled layout also gives the Mercer Admissions team the flexibility to switch out imagery as needed to quickly add prominence to a timely event or special feature.
Diving deeper into the admissions website, users are presented with bold, eye-catching images throughout every page. High traffic sections of the website are given special treatment and are separated into panels to present 'buckets' of information in a quickly consumable format. Panels vary in format from short paragraphs to infographics, bullet points and checklists. Attractive imagery of real Mercer students and locations are also incorporated on every page to reinforce what it means to be a Mercer bear.
In addition to innovative and effective web development services, for the last eight years Mercer University has relied on Third Wave Digital to provide comprehensive and reliable hosting and technical support for their admissions website. This will continue as Third Wave will now make room for the fresh and completely responsive website on its powerful network of cloud-based virtual servers.
Myron Bennett, Director of Creative Services at Third Wave Digital commented, "We are very excited by the launch of the new Mercer Admissions website. This site represents the paragon of what we can offer our higher education clients: Cutting edge technology and innovative design engineered to support their marketing and branding efforts. We are truly fortunate to have clients like Mercer that allow us to push the envelope of what is possible."
About Mercer University
Mercer University is one of America's oldest and most distinctive institutions of higher learning, offering rigorous programs that span the undergraduate liberal arts to doctoral-level degrees. With more than 8,000 students enrolled in 11 schools and colleges on campuses in Macon, Atlanta and Savannah, and at four Regional Academic Centers around the state, Mercer is consistently ranked among the nation's leading institutions by such publications as U.S. News & World Report and The Princeton Review.
About Third Wave Digital
Third Wave Digital is a comprehensive web design firm specializing in online communications solutions for higher education institutions. We provide innovative responsive website design & development, content management system development & support and complete web hosting services customized to fit your college or university's website redesign goals.
Third Wave Digital is headquartered in Macon, Georgia with satellite offices in Atlanta, Georgia and Orlando, Florida. For more information about Third Wave, call 888-578-7865, click www.twdcampustours.com , www.twd3.com, or e-mail us to find out how our services can increase your college or university enrollment and engage students.
---
---