IMA honors Third Wave Digital Best in Class Award for Davis & Elkins College Website
Third Wave Digital was awarded the Interactive Media Awards (IMA) Best in Show for excellence in web design, development and implementation of Davis & Elkins College's new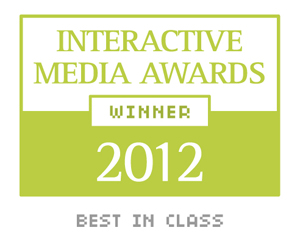 website (www.dewv.com).
The Interactive Media Awards recognize the highest standards of excellence in website design and development and honors individuals and organizations for their outstanding achievement. The Best in Class honor recognizes that the Davis & Elkins website met the standards of excellence that comprise the web's most professional work. The judging evaluated design, usability, innovation in technical features, standards compliance and content.
The team at Third Wave Digital knew a major goal of www.dewv.edu was to give prospective students an interactive digital experience. This was done through the over 15 minutes of interactive student led video tours as well as an interactive campus map featuring Davis & Elkins' historic buildings and natural landscape. Each student tour features links to related topics and personalized photo galleries. The entire experience is available to mobile browsers with custom coded HTML5 and jQuery presentations for iPhone, iPad and Android devices.
"We're very pleased with the IMA's recognition," said Myron Bennett, Creative Director at Third Wave Digital. "The new Davis and Elkins website represents the very best online experience that colleges and universities can offer to their students and faculty as well prospective students and their parents. This marks our second 'Best in Class' award from the IMA," he added. "We believe it recognizes our continued efforts to provide unsurpassed service in design, coding and a rich user experience to our higher education clients."
Davis & Elkins College is accredited by the Commission on Institutions of Higher Education of the North Central Association of Colleges and Schools. The college is also nationally accredited in Nursing, Education, and Theatre and internationally accredited in business programs. Davis & Elkins is located in Elkins, West Virginia.
Third Wave Digital is a comprehensive web design, development and support company specializing in complex web presence creation for small to mid-sized businesses and universities. Third Wave Digital is a division of Colbarton Corporation which offers full service advertising agency services and complete web hosting solutions. Third Wave Digital is headquartered in Macon, Georgia with satellite offices in Atlanta, Georgia and Orlando, Florida. For more information about Third Wave, call 888-578-7865, click www.TWDCampusTours.com or e-mail info@thirdwavedigital.com.
The materials found in this digital press collection are copyright owned, held, or licensed by the Colbarton Corporation and are available for personal, non-commercial, and educational use, provided that ownership of the materials is properly cited. Any commercial use of the materials without the written permission of Colbarton Corporation is strictly prohibited. For permission to use specific materials, please contact info@thirdwavedigital.com.
Copyright© 2013 Third Wave Digital
---
---