HotPlates Restaurant Group, launches redesigned website from Third Wave Digital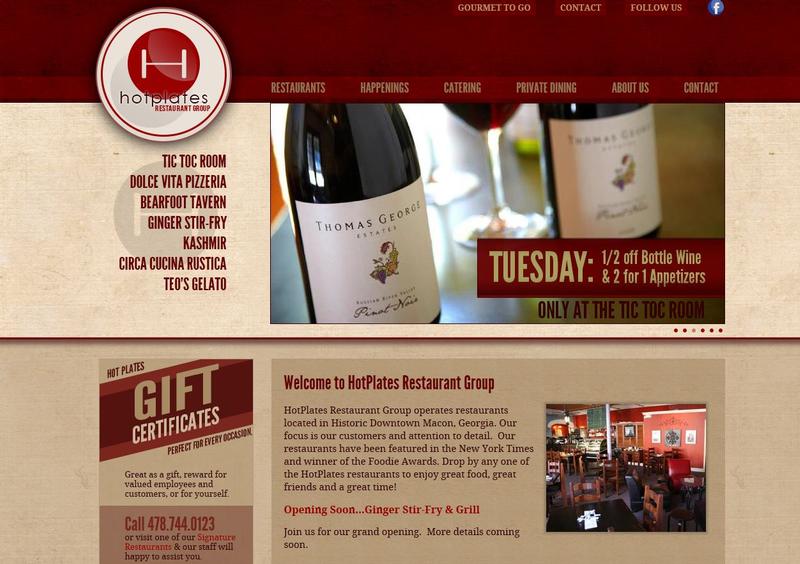 Downtown Macon business, HotPlates Restaurant Group, launches redesigned website from Third Wave Digital
HotPlates Restaurant Group has been a staple of downtown Macon for over ten years, starting with Tic Toc Room and still growing. Each restaurant is unique in their offerings, from fine dining to casual pub fare to coffee house chic. When the owner of HotPlates Restaurant Group, Cesare Mammarella, needed a new website to showcase his many properties he turned to the leader of website design: Third Wave Digital.
This newly redesigned website www.hotplatesgroup.com features robust images and slideshows, featuring food and wine for several different properties within the HotPlates Restaurant Group: Tic Toc Room, Dolce Vita Pizzeria, Bearfoot Tavern, Ginger Stir-Fry, and soon to open Circa Cucina Rustica and Teo's Gelato. One can learn about each of the locations with easy to read location information, hours, and menus.
The HotPlates Restaurant Group website features custom design work using warm appealing colors that invoke an inviting atmosphere, like all of the HotPlates facilities. Third Wave's user friendly content management system allows the staff at HotPlates to keep their content like upcoming events & menus fresh and up to date.
" Third Wave Digital provides impeccable service and quality." Said Cesare Mammarella, owner of HotPlates Restaurant group.
The weekly specials are listed on their own page and are listed by the day of the week and property making it easy to view their specials and with Third Wave's social media aggregator, anyone can easily check out social media conversations for each property.
Along with web design, development and behind the scenes management, Third Wave Digital provides complete hosting and support after the sites launch.
"We were so pleased when Cesare hired us to redesign his website. His presence in downtown Macon has been dynamic and his website needed to better reflect everything his group has to offer." said Carla Schwab, Operations Director of Third Wave Digital.
About HotPlates Restaurant Group
HotPlates Group operates restaurants located in Historic Downtown Macon, Georgia. They focus on customers and maintain an attention to detail when preparing every meal. Their restaurants have been featured in the New York Times and winner of the Foodie Awards. You'll find their chefs to be skilled and well-versed in proper food preparation and presentation.
About Third Wave Digital
Third Wave Digital is a comprehensive web design, development and support firm specializing in complex web presence creation for small to mid-sized businesses and higher education institutions. Third Wave Digital is a division of Colbarton Corporation which offers full service advertising agency services through Third Wave Advertising, and complete Web hosting solutions through Third Wave Host. Third Wave Digital is headquartered in Macon, Georgia with satellite offices in Atlanta, Georgia and Orland, Florida. For more information about Third Wave Digital, call 888-578-7865, click http://www.twd3.com/ or email info@thirdwavdigital.com.
The materials found in this digital press collection are copyright owned, held, or licensed by the Colbarton Corporation and are available for personal, non-commercial, and educational use, provided that ownership of the materials is properly cited. Any commercial use of the materials without the written permission of Colbarton Corporation is strictly prohibited. For permission to use specific materials, please contact info@thirdwavedigital.com
---
---