Georgia Military College website secures Third Wave Digital Top Honors by the IMA's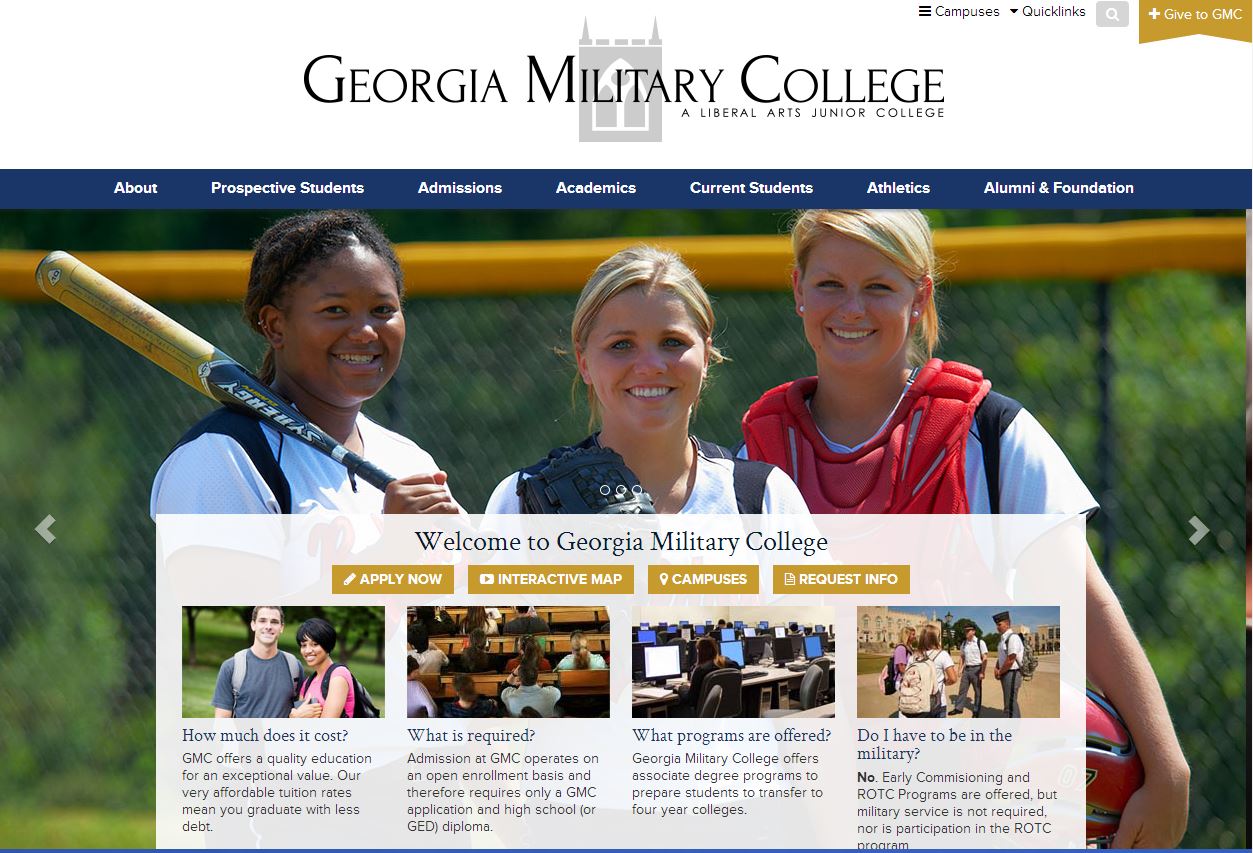 11/24/2014
Macon, Georgia
Third Wave Digital's award winning creative team today announces the honor of being awarded the Best In Class Award from the Interactive Media Awards (IMA) for Georgia Military College's newly redesigned web presence.
The award was presented to Third Wave Digital (TWD) for the design and development of Milledgeville, Georgia's Georgia Military College website http://www.gmc.cc.ga.us/ . The IMA's recognize outstanding achievement in interactive design and development and once a year, award designs in the "college" category. The Best In Class award is the highest honor bestowed by IMA and an extremely challenging award to win. It represents the very best in planning, execution and overall professionalism. In order to win this award level, our site had to successfully pass through a comprehensive judging process, achieving very high marks in each of the judging criteria - an achievement only a fraction of sites in the IMA competition earn each year.
The site boasts a responsive design, interactive campus map, campus calendar, and a social media hub. All these features are backed by Third Wave's higher education Content Management System TWD.CMS. Special care was taken by Third Wave Digital to ensure that the experience offered by the multi-paneled homepage was just as impactful on a mobile device as the desktop. The responsive website design takes this information and responds automatically to whatever device you are using, assuring a pleasant experience.
Third Wave not only designed a responsive website that is easy to consume by its users, but the administrators of the website benefit from the powerful features of TWD.CMS. Admins can quickly and easily make text changes to the home or interior pages and add new events to the campus calendar. More advanced functions include the ability to add or rename pages, and add additional administrators. Administrations can also take advantage of advanced metadata entry options. Third Wave provided content migration services for GMC ensuring that all initial pages were tastefully laid out and properly optimized for SEO.
Third Wave developed a sophisticated interactive campus map that has been seamlessly integrated with Google Maps to provide a bird's eye view of the state of Georgia. Users are first confronted with location markers for each GMC location. When clicked, these markers display information about each campus along with a slideshow. Prospective higher education students can easily get directions to each campus from their current location using the GPS technology in their computer, tablet or mobile device.
"We are very excited to win another Best In Class from the IMA's, this level of achievement is saved for only the best of the best and we are elated to be ranked in this class" Third Wave Digital President Bart Campione said. "At Third Wave Digital we are focused on creating relevant higher education website design solutions and to be recognized by the IMA's is an honor for our entire organization."
About Third Wave Digital
Third Wave Digital is a comprehensive web design firm specializing in online communications solutions for higher education institutions. We provide innovative responsive website design & development, content management system development & support and complete web hosting services customized to fit your college or university's website redesign goals.
Third Wave Digital is headquartered in Macon, Georgia with satellite offices in Atlanta, Georgia and Orlando, Florida. For more information about Third Wave, call 888-578-7865, click www.twdcampustours.com , www.twd3.com, or e-mail info@twd3.com to find out how our services can increase your college or university enrollment and engage students.
---
---