Georgia Military College Salutes Newly Redesigned College Website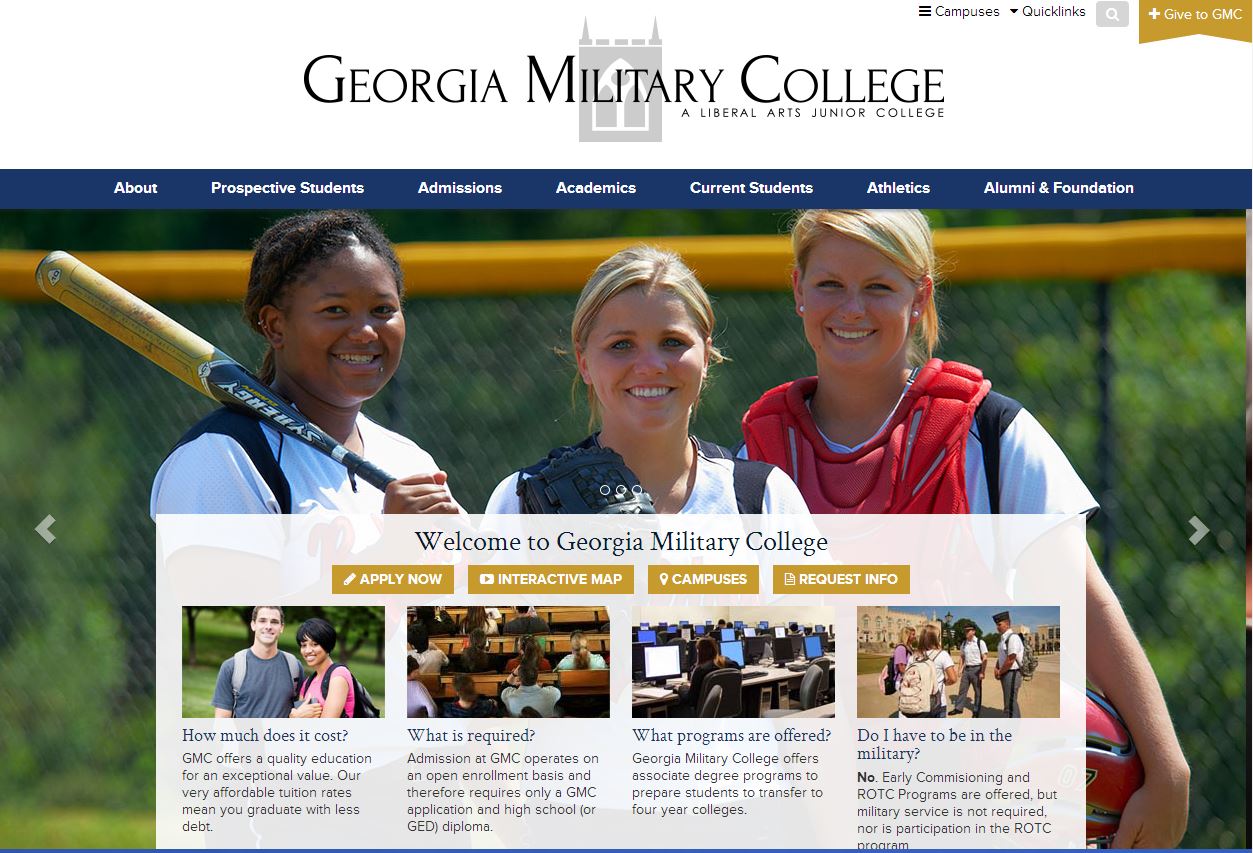 Macon, Georgia
August 22, 2014

Georgia Military College, a Liberal Arts Junior College selected Third Wave Digital to completely reimagine their web presence. Since 1879, Georgia Military College has expanded its footprint from its original campus in Milledgeville to five other campuses, three extension centers and an impressive array of online offerings. Seeing this growth, Third Wave Digital recognized a need for an innovation and a responsive web presence. The newly redesigned http://www.gmc.cc.ga.us/ boasts a responsive design, interactive campus map, campus calendar, and a social media hub. All these features are backed by Third Wave's higher education Content Management System TWD.CMS
.
Special care was taken by Third Wave Digital to ensure that the experience offered by the multi-paneled homepage was just as impactful on a mobile device as the desktop. The homepage is a wealth of information offering photos of students, answers to commonly asked questions, links to essentials pages and an infographic to explaining why GMC is an excellent choice. The responsive website design takes this information and responds automatically to whatever device you are using, assuring a pleasant experience.
Third Wave not only designed a responsive website that is easy to consume by its users, but the administrators of the website benefit from the TWD.CMS Content Management system. Admins can quickly and easily make text changes to the home or interior pages and add new events to the campus calendar. More advanced functions include the ability to add or rename pages, and add additional administrators and assign them to specific sections to the site. Administrations can also take advantage to the advance metadata entry options included in all pages. Third Wave provided content migration services for GMC to ensuring that all initial pages were tastefully laid out and properly optimized for SEO.

Given the sprawling nature of GMC's campuses it was imperative to outfit users with a map solution to review the campuses at a glance. Third Wave developed a sophisticated interactive campus map that has been seamlessly integrated with Google Maps to provide a bird's eye view of the state of Georgia. Users are first confronted with location markers for each GMC location. When clicked, these markers display information about each campus along with slideshows of campus features. Taking it a step further, prospective higher education students can easily get directions to each campus from their current location using the GPS technology in their computer, tablet or mobile device.

Additional features include a Social Media Hub, where students can absorb the most current happenings on GMC's social media outlets without leaving the website. Currently in production are video profiles of real GMC students shot on-location. Creative Director Myron Bennett of Third Wave is very pleased with the final product of this beautiful and intelligently designed site, "The new Georgia Military College website is a wonderful example of what can be accomplished when a forward-thinking client with an ambitious vision entrusts us to make that vision a reality. The site represents a huge leap forward for GMC's online presence and marketing strategy and its responsive design means it will be equally accessible to all visitors. We're pleased that a local institution of GMC's caliber chose Third Wave Digital for the development of such an important project and look forward to working with GMC as their online needs continue to evolve."

About Third Wave Digital
Third Wave Digital is a comprehensive web design firm specializing in online communications solutions for higher education institutions. We provide innovative website design & development, content management system development & support and complete web hosting services customized to fit your college or university's website redesign goals.
Third Wave Digital is headquartered in Macon, Georgia with satellite offices in Atlanta, Georgia and Orlando, Florida. For more information about Third Wave, call 888-578-7865, click www.twdcampustours.com , www.twd3.com, or e-mail info@twd3.com to find out how our services can increase your college or university enrollment and engage students.
---
---