Daring New approach to college student tours: Third Wave Digital delivers for YHC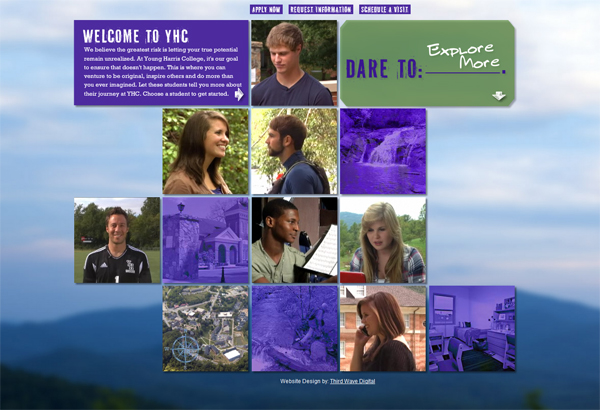 On Friday May 11, 2012 Third Wave Digital announced the launch of the new virtual student tour for Young Harris College.
When Young Harris College (YHC) decided to revamp their marketing and recruitment efforts with a new branding campaign, they turned to Third Wave Digital for one-of-a-kind interactive student tour experience. The Prospective Student Tour portal gave Third Wave Digital the opportunity once again to stretch the bounds of technology for higher education recruitment tools.
Third Wave Digital used the existing branding elements provided by the College to incorporate into the new student tour,
yhc.edu/tour
. The "Dare to" campaign and the majesty of YHC's location in the north Georgia mountains are the catalyst for the new interactive college tour design. A series of 14 interactive student tours give prospective students an inside view of the college before ever setting foot on campus. Users can pick and choose the tour subjects or tour guides that they relate to most, ensuring that each prospective student can truly "experience" Young Harris College in a unique way.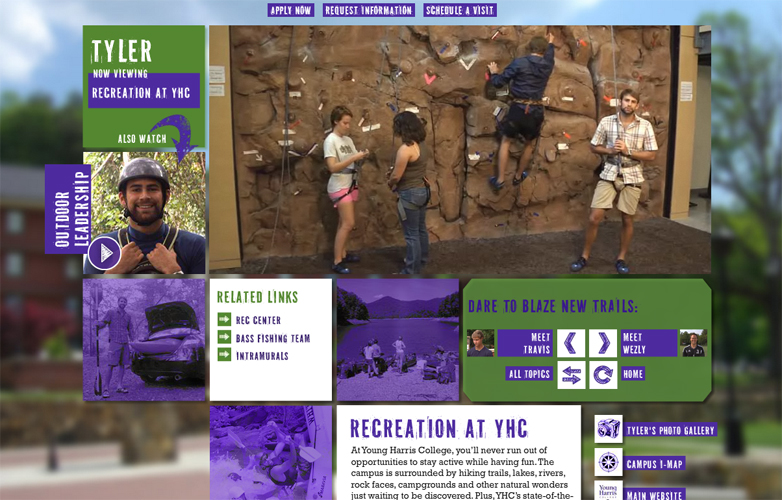 Along with designing the look and feel of the interactive student tour home and interior pages, ThirdWave Digital also provided script writing for each of the 14 video tour topics, provided on location filming, and post production editing. Each script was written based on the selected student talent, making a tremendous difference in the personality of the interactive tours.
"Incorporating the uniqueness of each student helps give the tours an authentic voice that helps other; would-be-students get a true perspective of the college. We always set out with a theme in mind, but the student talent really helps shape the direction of each piece. The students at YHC did an awesome job," said Myron Bennett, Director of Creative Services for Third Wave Digital.
The resulting custom student tour section features a Flash® interactive menu featuring students and areas of interest. Each interactive block contains a video rollover state along with more options upon the first click. From here prospective students can learn about the college, find out more about available majors, view campus slideshows, photo galleries for each tour guide, and find their way around campus thanks to a simple to use and completely interactive campus map.
According to Denise Cook, Director of Communications and Marketing for Young Harris College, the completed tour portal exceeded- expectations. "We are thrilled with the launch of our new "Explore YHC" site created by Third Wave Digital. The team did an excellent job of executing a fresh, exciting concept that gives visitors a real, personal look into the student experience at Young Harris College. Third Wave Digital is truly passionate about their work, constantly offering creative ideas and solutions along the way, and their energy and commitment to a project is second to none."
About Third Wave Digital
Third Wave Digital is a comprehensive web design, development and support firm specializing in complex web presence creation for small to mid-sized businesses and higher education institutions. Third Wave Digital is a division of Colbarton Corporation which offers full service advertising agency services though Third Wave Advertising, and complete Web hosting solutions through Third Wave Host. Third Wave Digital is headquartered in Macon, Georgia with satellite offices in Atlanta, Georgia and Orlando, Florida. For more information about Third Wave, call 888-578-7865, click
www.twd3.com
or e-mail
info@thirdwavedigital.com
.
---
---