Dalton State College Web Design Wins Prestigious "Best In Class" IMA
Georgia's own Dalton State College is honored for excellence in the digital world, winning a 2015 "Best In Class" Web Interactive Media Award.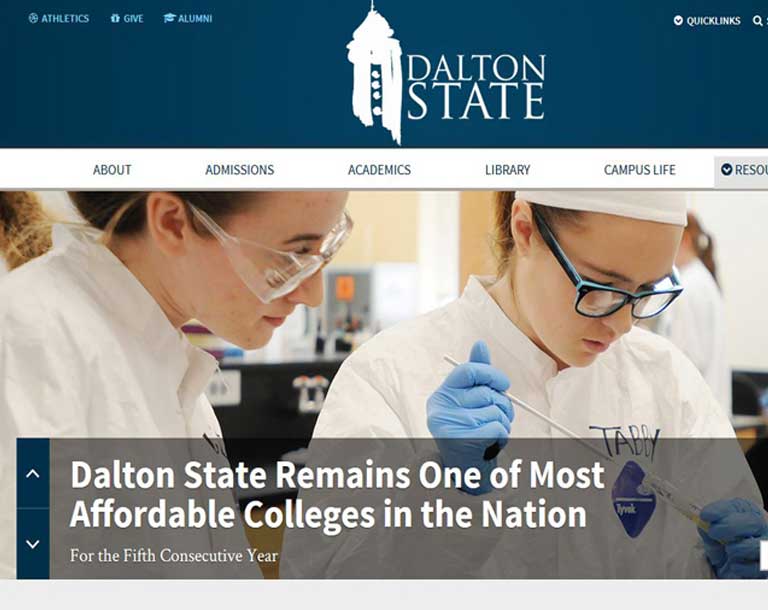 The Best in Class award is the highest honor bestowed by the Interactive Media Awards, recognizing outstanding achievement in interactive design and development once a year. To receive the Best in Class award, entered websites must excel in all areas of judging criteria and represent a very high standard of planning, execution and overall professionalism. This year's competition featured sixty-five entries and each was judged on design, content, feature functionality, usability, standards compliance and cross-browser compatibility.
The IMA's are designed to elevate the standards of excellence on the Internet and offer winners a boost in marketing and exposure. In order to win this award level, sites had to successfully pass through a comprehensive judging process, achieving very high marks in each of the judging criteria - an achievement only a fraction of sites in the IMA competition earn each year.
Third Wave Digital created the newly redesigned www.daltonstate.edu which boasts a responsive design, interactive campus map, campus calendar, student videos, and an admissions resource center. All these features are backed by Third Wave's higher education Content Management System TWD.CMS and the site is securely hosted by TWD Host.
This is the 6th IMA "Best In Class" award that Third Wave Digital has won for higher education website design. "We are very pleased to receive the "Best In Class" Award from the IMA's," says Third Wave Digital President Bart Campione. "At Third Wave Digital we are focused on creating relevant higher education website design solutions and to be recognized by the IMA's is an honor for our entire organization." You can visit Third Wave Digitals new campus tours website www.twdcampustours.com to see the breadth of our portfolio in the higher education market.

About Dalton State
This multifaceted institution is located in the beautiful mountains of North Georgia. As an institution of the University System of Georgia, Dalton State College offers targeted bachelor's degrees, a full range of associate's degrees and career certificate programs, as well as a wide variety of public service activities. The College's work is strengthened by partnerships between the College and Northwest Georgia businesses and industries, governments, and schools.
About Third Wave Digital
Third Wave Digital is a comprehensive web design firm specializing in online communications solutions for higher education institutions. We provide innovative responsive website design & development, content management system development & support and complete web hosting services customized to fit your college or university's website redesign goals.
Third Wave Digital is headquartered in Macon, Georgia with satellite offices in Atlanta, Georgia and Orlando, Florida. For more information about Third Wave Digital, call 888-578-7865, click www.twdcampustours.com or email info@twd3.com to find out how our services can increase your college or university enrollment and engage students.
---
---