Crystal Coker Celebrates her 5-year Anniversary with Third Wave Digital
MACON, GA, May 8, 2023 – Third Wave Digital, the leading full-service creative agency in Central Georgia, is delighted to commemorate the 5-year work anniversary of Crystal Coker.
After amassing 17 years of experience in radio, Crystal joined Third Wave Digital as the Agency Coordinator and was soon promoted to Agency Manager. Since then, she has played a crucial role in supervising the entire advertising process – from contract negations to the execution of advertising campaigns. Crystal has a passion for developing effective marketing strategies that help businesses thrive. As she confirms objectives are met, she takes pride in ensuring that each client receives personalized attention and exceptional customer service.
When asked what her favorite thing about working at TWD was, Crystal shared, "There's not just one thing that is my favorite. I love being a part of developing marketing plans for businesses and watching them prosper. Knowing that we manage each project and client with sincere attention. Seeing each team member develop and utilize their unique strengths to contribute to that success is exciting. Lastly, having an upper management team that welcomes fresh ideas and autonomy, and who genuinely cares for you as a person, not just as their employee, is priceless."
Looking back on her experience working with Crystal, Carla Cicero, Operations Director and Partner at Third Wave Digital had this to say, "Crystal has been instrumental in carrying our agency forward, and her work ethic is unparalleled. Third Wave Digital would not be the same without Crystal's hard work and dedication."
Third Wave Digital expresses gratitude for Crystal's unwavering dedication and five years of outstanding service. We anticipate her continued success and contribution to our team for years to come.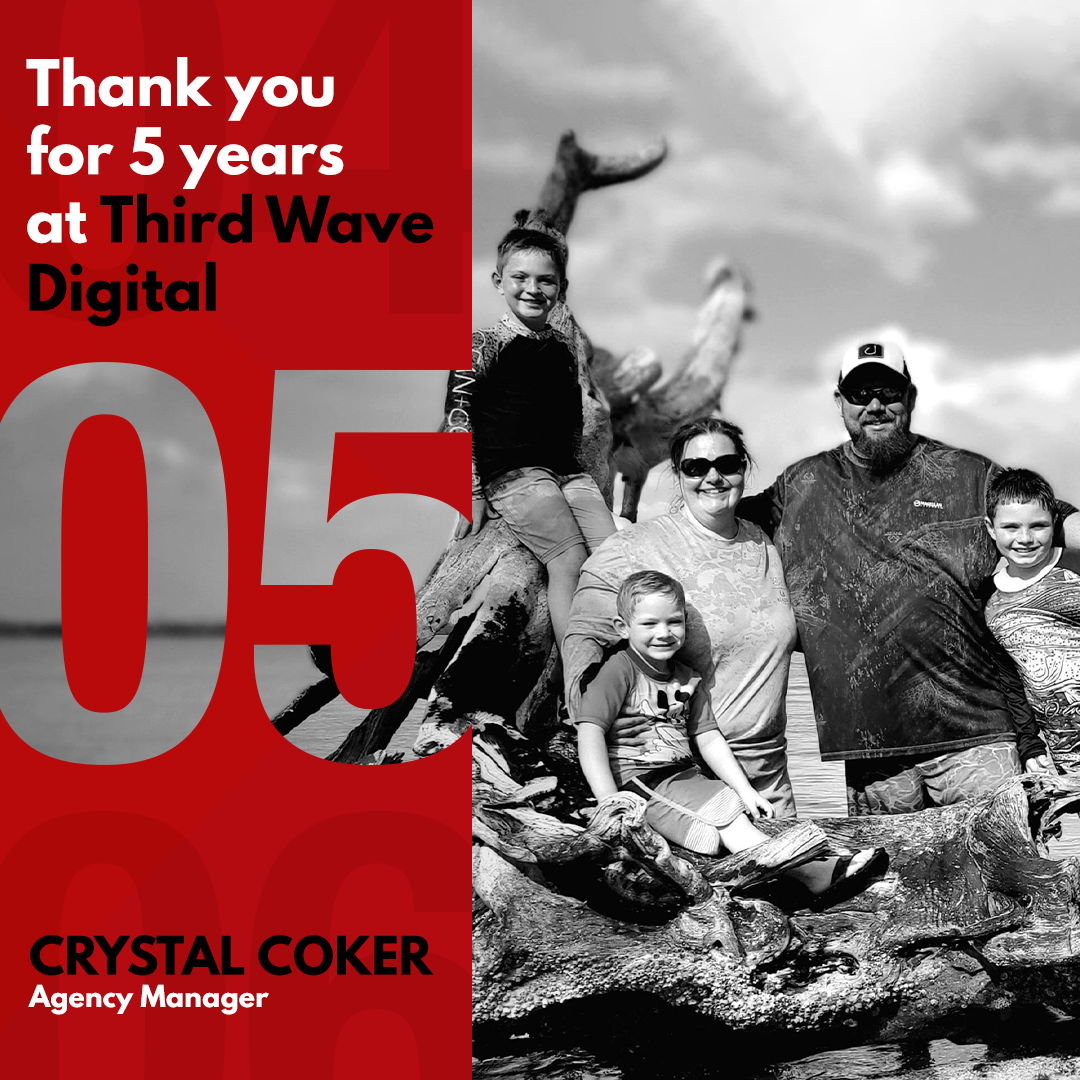 About Third Wave Digital
For over 25 years Third Wave Digital has been in the business of providing communication excellence to our clients through digital and traditional marketing & advertising services. Third Wave Digital is headquartered in Macon, Georgia and serves clients across the United States. Third Wave Digital offers a comprehensive array of services from website development, hosting and technical support to digital marketing and traditional advertising agency services. Specialty services include complete video production and post-production editing facilities, licensed drone operators and 2D-3D animation capabilities. For more information, contact Third Wave Digital at 1-888-578-7865 or at www.thirdwavedigital.com.
---
Tags:
Crystal Coker Agency Manager
Crystal Coker
Third Wave Digital anniversary
Third Wave Digital
---