College Website design firm Third Wave Digital helps school promote programs, attract students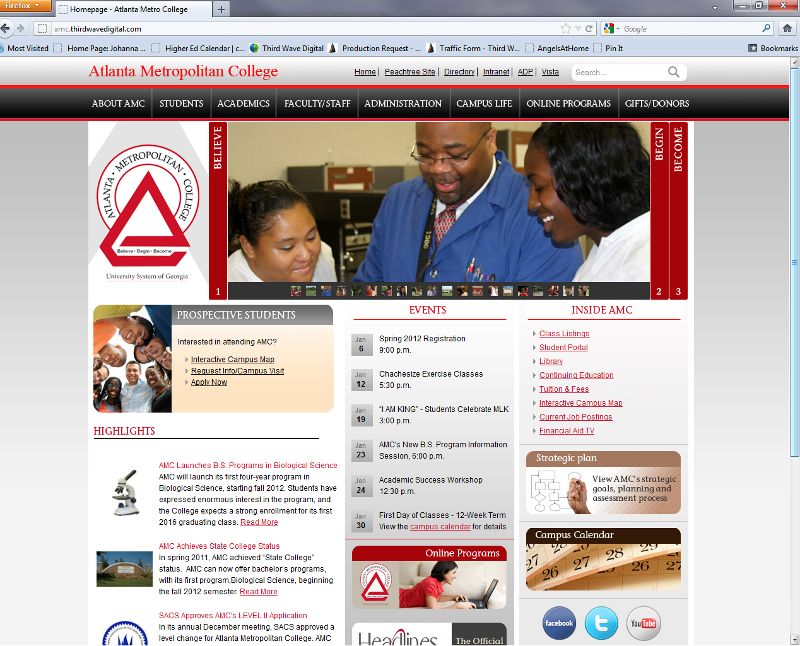 Atlanta Metropolitan College (AMC) came to the award-winning higher education web design firm, Third Wave Digital, in need of a complete website overhaul. After months of research, design meetings and on-location video shooting, Third Wave Digital (TWD) today announces the launch of the new AMC website, http://www.atlm.edu/. AMC is the latest website in a string of impressive, student-centered, interactive higher education websites from Third Wave Digital – a company recently awarded with the prestigious Best of Show Interactive ADDY® award for university admissions website design.
Atlanta Metropolitan College realized that their current site was not engaging students as it should, the previous AMC website was difficult for students and faculty to navigate and important information was buried deep within the site's pages. Most importantly, AMC needed an appealing, student-centered component added to their website that would help attract new students.

To solve this problem, Third Wave Digital provided website design services that included a complete home page redesign and the creation of unique sub-page templates. To increase the interactivity so important for today's college bound students, TWD also incorporated custom Flash® animation, photo slideshows, an interactive campus map and a sixty second media presentation into the masthead of the home page of the site. Additionally, TWD provided script writing, full video production services, and post-production editing for the student tour presentation.

"AMC's new website is a great example of how colleges can utilize the web to engage their current students and attract new ones," said Third Wave Digital Operations Director Carla Schwab.
On the technical end of this project, TWD provided complete coding and programming for the site navigation, HTML templates, communication forms and features listed above. TWD also provided AMC's IT Department with complete technical assistance in moving all files to the college's web server and setting up the new website.

About AMC
Atlanta Metropolitan College (AMC) is a member of the University System of Georgia, and AMC is accredited by the Southern Association of Colleges and Schools (SACS). Atlanta Metropolitan College has a rich history that is tied to the City of Atlanta for which it is named. The academic programs and support services are challenging, comprehensive, and affordable. In total, AMC offers forty six programs, two of which grant certificates and two fully online programs. This broad array of programs, flexible delivery methods, and convenient times for course offerings are all designed to meet the diverse needs of the AMC student body.

About Third Wave Digital
Third Wave Digital is a comprehensive web design, development and support company specializing in complex web presence creation for small to mid-sized businesses and universities. Third Wave Digital is a division of Colbarton Corporation which offers full service advertising agency services though Third Wave Advertising and complete web hosting solutions through Third Wave Host. Third Wave Digital is headquartered in Macon, Georgia with satellite offices in Atlanta, Georgia and Orlando, Florida. For more information about Third Wave, call 888-578-7865, click
www.twd3.com
or e-mail
info@thirdwavedigital.com.
---
Tags:
higher education website firm
higher education digital marketing firm
---