Acclaimed Macon eatery Marco goes online with new website from Third Wave Digital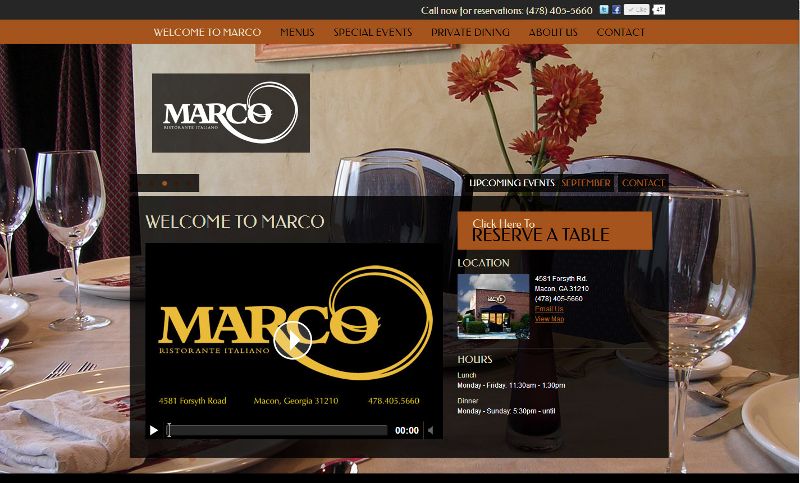 Marco Ristorante Italiano has become well known to Middle Georgia residents with a taste for Italy - and for good reason. Marco's elegant atmosphere, authentically Italian dishes and five-star service guarantee an experience guests want to repeat again and again. To better connect with patrons, Marco commissioned Macon, Georgia-based Web design Company Third Wave Digital for an all new website.
For Marco, Third Wave Digital's team focused on creating an inviting website that offered pertinent information and made reservation booking quick and easy. The finished website is a completely new front-end look for http://www.marcomacon.com using high-quality photos of the restaurant's interior and exterior combined with a sophisticatedly warm color palette of burnt orange and rich blacks.
To give site visitors an immediate glimpse of Marco, Third Wave Digital scripted, produced and edited an overview video that gives visitors a taste of what to expect from their Marco experience right on the site's home page. And, to help users quickly go from gazing at the mouth watering menu to taking their first bite, visitors of http://www.marcomacom.com can use the reserve a table form to book a table for the date and time of their choosing.
Communicating with the Marco staff via the website is made even easier with a signature mobile friendly interface from Third Wave Digital and more online communication forms, allowing users to request more information, refer a friend or even apply for a position with Macon's acclaimed fine dining restaurant.
Behind the scenes of the new site is Third Wave's user-friendly content management system which allows Marco administrators to easily update menus and specials in real time. Third Wave Digital has also provided complete hosting and support since the sites launch.
About Marco Ristorante Italiano
Owner, Nazario Flipponi and the management team of Marco's Ristorante Italiano bring to each table setting a lifetime of experience in the hospitality industry and a reputation for uncompromising fine dining quality. Any visit to Macon, Georgia would not be complete without an authentic Italian dinner at Marco Ristorante. Marco has a lovely atmosphere and attentive staff perfect for business meetings or a romantic dinner. Marco Ristorante Italiano also has a private room that can accommodate up to 30 guests. The culinary world has taken notice of the fine dining to be tasted at Marco Ristorante Italiano; they have received some of the best reviews and awards in the Macon, Georgia area and beyond.
About Third Wave Digital
Third Wave Digital is a comprehensive web design, development and support company specializing in complex web presence creation for small to mid-sized businesses. Third Wave Digital is a division of Colbarton Corporation which offers full service advertising agency services though Third Wave Advertising and complete web hosting solutions through Third Wave Host. Third Wave Digital is headquartered in Macon, Georgia with satellite offices in Atlanta, Georgia and Orlando, Florida. For more information about Third Wave, call 888-578-7865, click http://www.twd3.com or e-mail info@thirdwavedigital.com.
---
---